28 February, 2007
琴键传送手足情
表演者: 王禄江, 钟琴, 沈昀颖, 鹤天赐, 迷路兵
艺人将用手脚弹古典歌曲, 双手弹迷你钢琴, 双脚弹普通钢琴。
(Source: Shin Min Daily News)
- Ebony & Ivory
Artistes: Bryan Wong, Kym Ng, Sim Yun Ying, Nat Ho,Sam and Weiqi from MiLu Bing (from SuperBand)
Item: This is a piano recital with a special touch. The artistes are trying their hands on mini pianos as well as using their legs on a giant floor piano. It's not kiddy stuff and on the contrary, they are seriously performing classical pieces as a group and in pairs. There will be a variation in presentation for the different music pieces and the degree of difficulty increases towards the end.
(Source:
Channel U
)
Sam and weiqi jia you!
Labels: Events
24 February, 2007
Weiqi and Sam will be appearing in:
Ren Ci Charity Show
on
18 March 2007, Sunday
in
Channel U
at
7.30pm
.
Nic
will not
be attending as he will be in camp on that day so it won't be the usual MLB performance - in fact much less of a performance (as mentioned by weiqi in one of his tag). They will be playing a more supportive role this round...o.O
Labels: Events, MLB just blogged
19 February, 2007
Weiqi's tag in the blog, regarding something that most of us have being concerning about...
"Well, we understand the issues involved, but in a way, we are powerless in making any substantial change as yet.. this is partly due to us being very new, thus we have less say in the way things have to be done. Rest assured that we are doing all we can on our part to get things moving, and it is mainly due to restrictions that are beyond our control that hinders our EP and public appearances. But we are still doing wat we can. For eg, Sam n I have accepted the fact that we gotta still appear on programmes and public shows even if Nic can't be with us.This is for the sake of the band.The thing that all MLBians must rmbr, is that we cld never think of giving up, so much love and support from of u have been helping us along our way in this journey so how cld we think of that?Besides not letting MLBians down, we 3 also are not gonna let ourselves down either, so much effort and emotional baggage has been put into the forming of MLB and the MLB family. To me, this is just the beginning. I don't know what's in store for us, but wat i know, is that we're not going down without a fight."
Labels: MLB just blogged
14 February, 2007
to continue from the previous entry on the saturday event..
here's some of the things you might wish to have:
1) the performing songs' audio..
1st song sang:
自由 Zi You
2nd song sang:
Original Prankster
3rd song sang:
百万宝 Bai Wan Bao
(the audios are not that clear though, cux i just ripped it from the videos posted below. and oso due to the sound system, supporters' shoutings and singing along.)
AND
2) their pics during the gig..
on the stage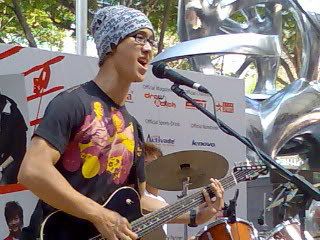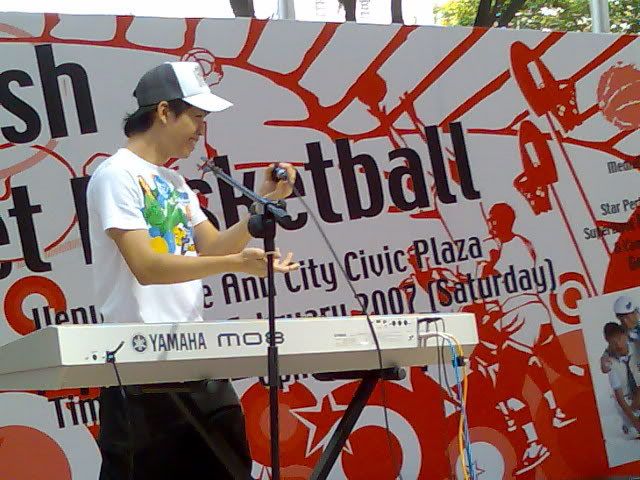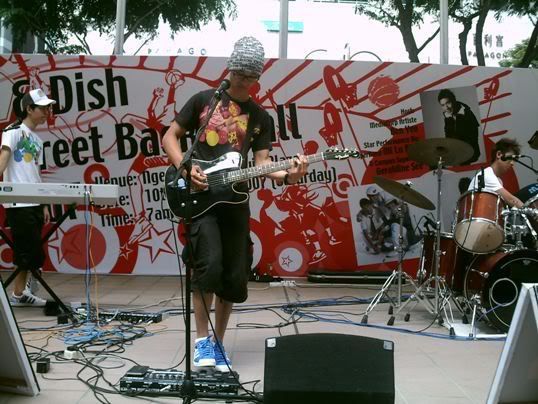 behind the stage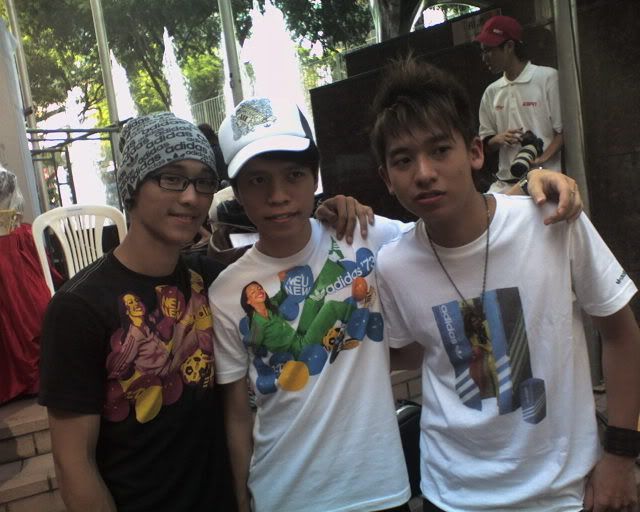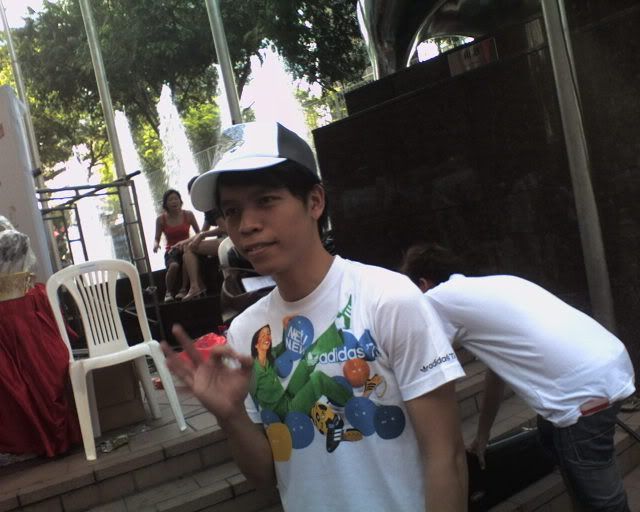 credits goes to ellekay, mui ling and peg.
[will upload more pics if i have it.]
Labels: Events
13 February, 2007
Hey! Sam's tag;
Hey hey hey!I'm back, from a day out on my bike with my brother who rides too.
Feels good to sit along the beach(es) under a hot but not-burning sun.
Now my skin colour == hair colour.
Thank u for complimenting on the above-mentioned.
And 谢谢 again for the support that day and always..
Hope that everyone is happy with their exam results cos..'You reap what u sow'
Take care all!!
'_'
2ndly, U weekly have MLB'S news too. But its nothing we don't know la - basically its about the delay in release of album for we-know-what reasons. -.-
Labels: MLB just blogged, Sam, updates of MLB
12 February, 2007
Hello! Two things here;
First one is Weiqi's tag in the blog;
weiqi
12 February, 2007 01:57
Sorry peeps, gotta make a quick comment here, gotta rush my hmwk again...THANKS to all who came ya?was kinda disappointed with how the sound turned out..wished it could have been a better experience for all of u..like that time at RP? i think that was one of the nice sound setup. Ngee ann city..mmm maybe it's the acoustics of the place too ba..echoes.. We'll be jiayoing regarding the recording of our album for u all! Thanks once again for the love from the MLBians.(and sorry ya? didn;t know i wasn't smiling.. sigh, i look too serious isit? but i tot u all know how i'm like hehe, never mind, will try to smile more ba..paiseh, i not like smiley NIC hHAHAHAHA..btw,nic booked in straight away that afternoon, and is currently doing his 1st field camp!)
Second one is the videos that I've recorded during last Saturday's performances; I've uploaded to youtube... First video is them performing Zi you; second is Original Prankster and third is Bai wan bao. Appologies for the poor quality...
=)
Labels: MLB just blogged, Videos, Weiqi
09 February, 2007
Upcoming Event..
Date: 10th Feb 2007
Time: 3.30pm - 4.00pm
Venue: Ngee Ann City Open Space
No of Songs performing: 3
Nic gotta book in straight after the gig..
and there will be no event on sunday at J8..
thanks.
for those who have the MLB tee, please wear it on Sat and for those who don't have it, please wear white.. thanks. =D
Labels: Events
05 February, 2007
Yup, weiqi tagged. He said he got lotsa homework to do and tomorrow (6 Feb?) he got presentation...
And the rest was still guessing the songs they would perform on Saturday...but weiqi doesn't want to reveal...o.o!
Labels: MLB just blogged, Weiqi
04 February, 2007
Weiqi's tag in the
blog
....
Hey everyone! thanks for the wishes!!! :) Sorry ya, was buried in my hmwk, btw during my bday i was in skool till 7.30pm(last class) then i ate dinner at jurong point, then was back at my room, did hmwk till 4 plus am... yup, that's how i spent my bday HAHAHA.. tat's why i've been kinda MIA..sorry ya.. Didn't get to hear the wishes on 9.33 but my friends reported to me bout them..so THANKS!!!
Wanna say thanks to Bonnie, received ur card.Samuela n WeiJinn, thnx once again!Angie, thank u too..Irene XIE XIE!Flora jie..thanks!Nicole :)Xzellyn,dun worry bout MLB,we are fighting hard for the EP :)KC...wanna poison me huh..(kiddin)TTWW! Cool... love the idea! can't wait to see the cert!
Thanks once again for ur care and concern ya?I'm sure this year will be a better one! Actually, i feel tat birthdays are meant for us to rmbr our parents,how they have supported u for X no. of years.. yup.. sorry ah, i kinda long winded.Anyways,
Nic's back in action and he's ok with the training, he told me jus a lil tiring, and he say his eyes opened when he saw the size of the ants there haha.. Sam's currently laying drum tracks for the EP, and been preparing his vocals..As for the ngee ann city gig, i'll try to update u all when i know the timing k?so far they've given us a range of 12noon to 8pm..
but shld be afternoon ba.We're singing 3 songs. 2 we sang b4, but maybe u never hear us sing b4? dunno leh. The other, never sing b4. *hint hint* TAKE CARE EVERYONE!
Labels: Events, MLB just blogged, updates of MLB, Weiqi
03 February, 2007
ATTENTION!!
as you all know, MiLuBing will be having an event on this coming Saturday, 10th Feb 2007 at Ngee Ann City.
To all supporters who will be going down and have bought the MLB tee, please wear the MLB tee that you've purchase on that day.
Thanks.. =D
Labels: Events