30 April, 2007
Thanks 'mlbian' for providing the scanned copy for this week's I-weekly =)...click on the picture for clearer image...
Labels: magazine articles
thanks meikian for sharing the songs and pictures of MLB's event in Republic Poly. =))
the songs:
http://www.savefile.com/projects/587139
the pics..
http://www.wretch.cc/album/album.php?id=estherzax&book=12&page=1
Labels: Events
29 April, 2007
RP performance
credits to cream.
Labels: Events
weiqi said...
Hello everyone.. Super tired,came back from recording and a hair cut today.. wat a day!But it's great to be at the studios singing with my bros again!*ahem* IT's my hols le!!! yay..3 mths of my own work to do..some kind of holiday..but still better than nothin rite? heh heh.Btw our album release date really depends on warner side,so..meawhile i've been drawing out the storyboard for 1 of the songs, hope to get it done soon so can submit to warner :) Coming month is MAY,it's a good month,cos u'll all get to see us again!in many different ways ba.There will be at least one gig so,do pay attention in may k? Take `care peeps!
29 April, 2007 00:38
Labels: updates of MLB, Weiqi
28 April, 2007
Congrats to Sam, nic and weiqi for accomplishing yet another round of wonderful and powerful performance in "CHROUS OF DREAMS - A MUSIC EXTRAVAGANZA" that took place in RP earlier on. Why do I say powerful? This was what happen;
The guys sang
自由
,想你是临睡的习惯 and Chasing cars (by Snow Patrol). After they finished singing 自由,the fire alarm suddenly broke out. The management went to check and found out that it's a false alarm so they continued performing their second song.
After that, our hosts Jensen and Wendy proceeded with interviewing them; including asking about the progress of their EP. According to Nic, their EP is almost done (right?).
Wendy asked among the three of them who's the most well-behaved guy - Sam answered he's the one...
Jensen was so cheeky to matckmake Wendy with our Milubing - especially with Weiqi! LOL!
This is the picture I took. I'm sorry if it isn't clear - my camera doesn't allowed me to capture clearer pcitures...=x sorry...
Meanwhile, if you (those who were there) captured snapshots and would like to share with us here, feel free to send it to us...
Labels: Events, MLB events recaps, Pics, updates of MLB
26 April, 2007
Hooray! It's a little more than 24 hours (from now) to seeing Milubing rock the stage again!
To those that are coming tomorrow, shall we wear the MLB tee? As suggested by meikian in the main blog, those who don't have the white colour MLB tee shall just wear white. Is that alright? LOL.
Once again, we wish Milubing all the best in tomorrow's performance...
Labels: our msg for MLBians
SAM:
"Good Morning" on 26 April, 2007 02:10
Yes, it's 5 of us drummers making noise together. I'm on the big fat bass drum, BOOM BOOM BOOM! PLs call ...... to make a donation or we'll burst our own ear drums, thank you.
This is what i did today.. I woke up early to have a haircut, or rather to trim my hair. After which i went riding! Under the hot sun, with one friend on his own bike, we moved aimlessly in search of some nice place. Finally at late afternoon, we stopped by a park with a lake in the north. Then it started to rain. SIAN! My bike and i then took a shower on the way home. At night, Nic and i went to watch the primere of Spiderman. 1st time i'm watching that movie, quite nice in my opinion.
How come i'm still not home now?!
Labels: MLB just blogged, Nic, Sam
25 April, 2007
updates of Sam's participation in charity show along with 5 other SB members.
一心一意为善乐
6th May 2007, Saturday
Channel U at 7pm
Labels: Events
Weiqi's tag: Hey mlbians, jus a quick update on my side since i'm at the com lab. Been busy studying for my last paper and packing my hostel room cos gotta move out liao and being even more busy registering for my new subject modules for next sem. It will all be over tmr!!! I CAN'T WAIT!!! 3 months holiday comin my way.. heh heh.. :p
aiyo, not that i gena chased out, but rather, i'm not going to stay in hostel for 3 months during my holidays..so move out lor.Next Sem will apply for hostel again :) hope i get it again. Holidays will be full of projects I have set my heart at, gotta do lotsa self-improvement in various aspects of my life, and reflection on the 1st half of the year. Think i can do a much better job for the next half :p try my best la.Also, i wanna get involved with the MTV of our band if there is any.So i'm gonna be doing storyboards and stuff and work with Warner side regarding such matters. Hope that's enough info for u all! Guess i'll be around the com lab for about 45 more minutes.
oh ya.. and yes i will jia yo! thanks for the jia yo(s)
Labels: Weiqi
24 April, 2007
new blog entry by Sam at 24 April, 2007 16:28
"HO H0 Ho..
Few days ago..At about 1am, I walked down the quiet neighbourhood, went towards my motor-bike at the carpark and started the engine. "WROOM. WROOM.. WROOOOOOOMMM!" Just wanted to warm the engine as I didn't ride out that two days. After a while, a QX came by, stopped, and 2 Ah-Sirs walked towards me. "Can I take a look at your IC?" I smiled and explained that i didn't bring it out cos i live just HERE. They then asked for my full particulars with IC and address so that they could call back to HQ and confirm that i ain't a thief or stray kid. So i waited awhile before they said, "You may go home now" and i left.. Such experience is not my 1st one, but through this, i learnt that we live in a safe neighbourhood. '_'Have a great day!
-Sam"
Labels: MLB just blogged, Sam
22 April, 2007
sam said...
Y0Y0!
I just had dinner.. Hmm.. I enjoyed it. Hope evryone also had a good dinner. 3 of us met up today, what did we do?
Gig's coming soon.. Soon after i'll be playing a different kind of drums, new experience.
Take care all!
'_'
22 April, 2007 21:01
Labels: Sam
21 April, 2007
sam @ 21 April 07 13.47
"Oh no.. I've been quite occupied these days, plus no internet access at home, so.. Its charity time, again! 5 of us drummers will come together to make some noise. We'll try not to scare the audience away. Gonna need lots of rehearsal to be able to put up a good show, but its kind of difficult to match all our free time. We'll still try our best! Jia You!Have a nice day"
Labels: Sam
20 April, 2007
NIC :
aiyo..the html thingy...must go ask wei qiagain..duno the format...the language..that time got help from him..gd nite guys! gota wake at 6 tml..die..no guit doing tonite...
photos got prob..haven install scanner yet..haha! soon soon...
Labels: Nic
19 April, 2007
NIC :
alamak....duno how to use this new blog's interface..anyway how's the going? Updates..Hmm..life here is altight..in good terms with fellow colleagues...OOoOo...oh ya..Well been having lil slp...morn to late eve in camp...at night...working on a newly embarked project...building a guit from scratch!! but more of like detroying one of my precious aged guitar (ard 20yrs old)...stripping it of itz paint..dislocating the neck, body, removing the tuning pegs and pickups etc...basicly...now itz called WOOD not GUITAR!
Anyway...taking of the paint has been darn tough...harder than what the end product shows...manz..feel like a carpenter..only into the first step...and itz a killer...but Wei Qi has promised to dedicate his holidays to help design it! Yay! got a experience spray painter to back me up! gonna get it soo soo revamped man..
will post pics soon when i get to know how to do it...winkz..haha...u all take careeee!!!!
19 April, 2007 17:11
Labels: Nic
17 April, 2007
weiqi @ 20:05 said...
"hey hey..eh,sam?he's currently rehearsing for that charity show,all i know is that it's some drummer showcase thingy,so many drummers from superband perform together"
Labels: Sam
16 April, 2007
I posted this before but since he mentioned, I shall do it again then :D
Up and coming gig details are here
MI LU BING TO PERFORM AT CHORUS OF DREAMS: A MUSIC EXTRAVAGANZA
A Fund-raising Concert for the Singapore Association of the Visually Handicapped (SAVH)
PRESENTED BY REPUBLIC POLYTECHNIC & YOUNG NTUC
Join the boys and other Singapore talents on this exciting night of music and fun, all in the name of charity.
Chorus of Dreams: A Music Extravaganza features a powerful line-up of artistes never before on one stage:
SuperBand Mi Lu Bing
Kelvin Tan Wei Lian
Syed Azmir
Leandra Rasiah
Mathilda D'Silva
Halfestride, Funk-rock fusion band
Olivia Guo, the world's only standing performing classical-fusion cellist
Clara Chua, Singapore's pop/jazz sensation
Jensen Siaw, radio personality/emcee
Wendy Toh, Up-and-coming singer/presenter
SAVH's very own visually-handicapped musicians
Venue:
The Republic Cultural Centre
Republic Polytechnic
9 Woodlands Ave 9
(Shuttle service available at Woodlands MRT from 6.30pm onwards)
Date & Time:
27th April 2007, 7.30pm
Tickets available from www.ticketcharge.com.sg or visit any of its 7 outlets (http://www.ticketcharge.com.sg/outlets.asp)
Price: $28 for Public*
- With 25% Discount for NTUC Cardmembers, Students & Full-time NSMen
- With 35% Discount for Block Bookings of minimum 30 pax (Call Jason at 6296 2929 to book by 18 April 2007)
Other Enquiries: Karen Ng (6251-4331 ext 115, or email karen@savh.org.sg)
(*Price excludes TicketCharge fees)
This special event is proudly brought to you by SAVH, with co-presenters Republic Polytechnic and Young NTUC.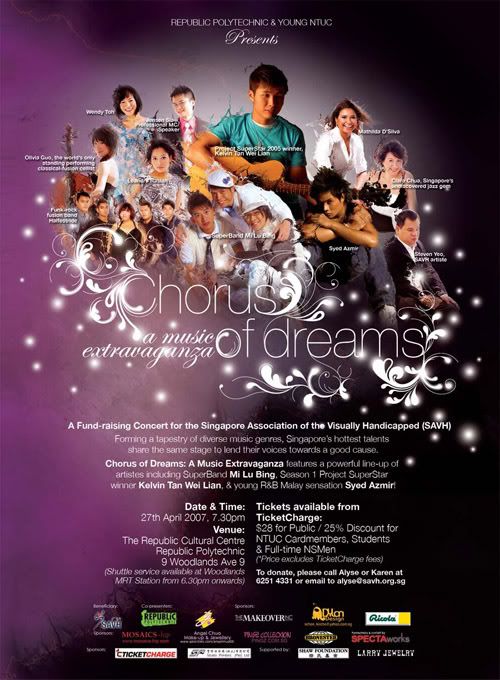 Labels: Events
weiqi's tag;
15 April, 2007 23:19
kinda xian today: after eating lunch with Sam, i had to rush back home to study, wish i cld hang out longer, cos Nic was also coming down to meet up..but bo bian.GOtta study..2 more weeks and i'll be thru! [Ren] must [Ren]. Isit just me or it's really very hard to remain a disciplined person, gotta constantly check yourself, nag at yourself...sigh..k la,sorry i suddenly make this random comment. heh heh.k, back to my books...art history exam comin this thursday...
Labels: Weiqi
12 April, 2007
please do vote for milubing. =DD
http://talkback.stomp.com.sg/forums/showthread.php?t=7334
11 April, 2007
sam posted again in the main blog at 11 April, 2007 23:08
"I go around to borrow laptops to tag, sounds funny but quite true. Actually always thinking of getting one for my personal use, but i don't use so often. Anyway, I was looking thru all the comments, really glad and thankful for all of you people. Never fail to support and encourage me, US.
Jia you everyone!"
Labels: MLB just blogged, Sam
another tag from sam @ 11 April, 2007 02:25
"I'm using a fren's laptop now, so late hor. Have been out often recently, was quite busy with small stuff here and there. Of cos having fun too.
Eh.. I should be playing a small part in another upcoming charity show. My bros won't be physically there cos...(u know) But they'll give me moral support. Soon.. Soon..
Take care people,
goodnite!
'_' "
PS: the charity show is unknown yet though there's ppl who think that it the Thye Hua Kwan Charity Show 2007 一心一德为善乐2007 at May 6 2007, Sunday at 7 pm.
09 April, 2007
just a small post to thanks those mlbians who are constanting tagging and visiting this blog.
THANK YOU~~~
and we saw new names wors.. hees.. xP we welcome all of you here.. =DD
we appreciate all of you here.. XD
and thanks weiqi too.. for tagging here.. (cux u cant tag in the main blog. =X) hahas.. *no offence*
take care all.. thanks..
Labels: our msg for MLBians
sorry for this late post.. weiqi tagged at 0136.. [AGAIN~~ hahas]
"hey all mlbians, sam's com has been down recently, dunno why but he can't access the net, sway la, can't check his email either...so looks like things are not really good, i can't blog on the main blog except for weekends, sam com down..let's hope nic tags more! heh heh..i gotta study ma..hope my teacher will like my portfolio tmr!!! see ya all! nites..btw, had lunch with my bros today,n went out for a while, felt like old times man,really miss the old days when we were in sec skool, can play our hearts out! nowadays so bz.anyways,CHEERS!"
Labels: Weiqi
07 April, 2007
message from weiqi again;
"hey hey,quickly make a comment b4 i go eat.was glad to see quizzy_me's tag:"So yeah, whatever happens, remember that on this arduous de music journey, remember you guys not only have each other - you all still have us. That's why we're the "MLB family" mahz. " Really sums up wat MLB is about - a happy Family! Hope all those not feeling well will get well soon,and to those having fun,be happier!Those slogging,like me and those working,i know that our work will pay off ya?so try to keep up with the smile!
my exam starts coming monday,and will end on the 26th.then it's the concert le!Arghh..a bit the stress ya?heh..btw, i didn't know Sam got some $$$ from the show! :( He never tell me n nic,that guy ah..tsk tsk, gotta make him treat dinner le..Take care MLBians!!! see ya in a few weeks time!"
Labels: MLB just blogged, Weiqi
msg from weiqi =))
"Hi everyone,weekend again so i get to borrow another com to blog.I jus watched the video of sam cos studying so didn't get to watch the actual one.No matter wat,i'm proud of my bro,cos i can't imagine being alone on screen;MLB is a team,so it was definitely hard.Like swimming with your hands and legs tied.It goes to show that be it Sam, Nic or myself, we each need one another for our brand of synergy. Nuff said bout this.Anyways,to ans a questioned posed,the graf competition,was based on "what does graf-fire mean to u?" which is a really lame theme...shhh...dun tell my skool i said that heh heh.. Take care all!"
Labels: MLB just blogged, Weiqi
06 April, 2007
Those who missed our nervous Sam on "Music in the air" yesterday, Xiu have uploaded it to the videos blog. File size is a little big so be patient while waiting for it to load =)
Labels: Videos
05 April, 2007
"sam said...
Yo.. I'm at a fren's place again.
In the past week, cycling almost daily. So shiok! Tonight's game show.. Eh.. Won't be looking at my nervous self, i'll be out till late. Enjoy the show.
Take care everyone!
05 April, 2007 18:31"
Labels: MLB just blogged, Sam
03 April, 2007
Nic's father with Nic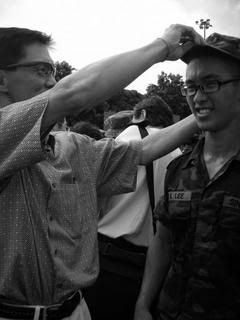 the photo that weiqi uploaded recently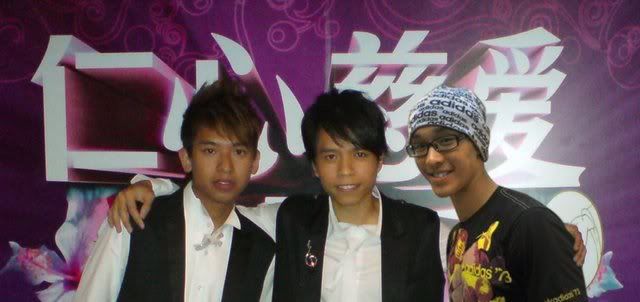 Labels: Pics
02 April, 2007
CHORUS OF DREAMS – A MUSIC EXTRAVAGANZA…
A fund-raising concert for the Singapore Association of the Visually Handicapped (SAVH)
Forming a tapestry of diverse music genres, Singapore's hottest talents share the same stage to lend their voices towards a good cause.
Chorus of Dreams: A Music Extravaganza features a powerful line-up of artistes including
Superband MiLuBing
, Season 1 project superstar winner Kelvin Tan Wei Lian, & young R&B Malay Sensation Syed Azmir!
Date & Time: 27 April 2007, 7.30pm
Venue: The Republic Cultural Centre,
Republic Polytechnic
9 Woodlands Ave 9
(Shuttle bus service available at Woodlands MRT station from 6.30pm onwards)
Tickets available from
TicketCharge
:
$28 for public / 25% discount for NTUC cardmembers, students & Full-time Nsmen (prices excludes TicketCharge fees)
To donate, please call Alyse or Karen at 6251 4331 or email to alyse@savh.org.sg
Source: this week's I weekly and
TicketCharge
Labels: Events
NIC IS 'BACK'!!!


His latest entry;
"wEeEeeeeEEee!!hehe...
rough outline...
8-5 vocation(temporarily)
doing admin work
get to go hme everyday
CAN DO RECORDING FREELY at nite oredi!!!
haha..yo itz been long since i've kept myself updated with d blog and stuff...well bmt was rough n tough for me..plus stay in mon to sat at tekong..and my internet was down. Now in a friend's place with Wei Qi checking out how to use this thingy..abit chim haha...anyways...wanna say hi hi to all of ya all...will be blogging more often le since i'm 8-5 vocation. Pls do take care of urselves and do catch up soon...we'll be gigging...will be recording and we'll move on...!!"
Labels: MLB just blogged, Nic
01 April, 2007
I'm back with updates from Weiqi's tag in the blog;
weiqi said...
Hey all!It's the weekends,and i get to use my sis's laptop!so can comment le!
wa,why the sudden discussion of me lookin fierce..i know la,lotsa ppl say i look fierce.Too bad la,my dad looks very stern,so he passed it down to me.Furthermore,i'm super tired these days,serious lack of slp,so makes me look even worse.Sorry to all who tot i 'diao' them when i was jus lookin. :(
Anyways,jus to answer some previous questions bout my skool,there are a few differences btwn it and NAFA n Lasselle.There's sumthin bout the degree being based on 'studio' work which makes it different,also,the duration of course is longer,and supposedly making it more recognised internationally.Stuff like that.Best to call up the skool or email if u wanna know more.I'm trying to clear the doubts according to wat i know k,so pls forgive me if i got anything wrong!Always check with the skools ya?
Here's my own personal feeling: i think the animation and product design are the really strong cornerstones of my school.But then again,do your research before making a decision.I went to NAFA recently to see the displkay of student works who jus graduated,some are REALLY good,do check it out too,keep your mind open ya?Any other questions regarding ADM, jus post, I'll do my best to answer ya?
An update on nic, he's doing fine in his signaller camp..nothin much to update bout him leh..
Sam's been busy just recently with some errands and logistics he's covering for MLB regarding the up and coming gig in april..(2chinese songs,1english song and no hints la).
Take care all! btw,my elbow's healing le! soon will be able to blade again!!! yay!!! :P nite!
Labels: MLB just blogged, Nic, Sam, Weiqi