29 March, 2007
msg from weiqi..
"thanks for the wishes regarding my exams.The lady working in Geylang with a co painter, that's my foundation drawing teacher.The newspaper kinda twisted her words.Anyways,she's a really nice person. The graffire boards are still at my skool's Basement level,but no point la, think i'll try to upload somehow soon.and yesh i'll take care of ma hand!takecare everyone!"
Labels: Weiqi
27 March, 2007
Sam's tag in the blog...
"sam said...
Hey halo!
I played badminton and soaked myself in the pool today, feels so good. I'm not a good badminton player, i'm not a good swimmer, but i enjoy doing sports! Wanted to blade tonight, but weather's turning bad.
So what did all of you do today?
27 March, 2007 19:13"
Labels: MLB just blogged, Sam
Yeah you've seen weiqi's tag but I'll just show it again;
My xray results were out today,no sign of fracture,doc said most likely is build up of sumthin around the wound that causes restriction to movement.Thank GOD!!! :p Anyways, like Sam said, i'm super tied up with studies,recorded some vocals yesterday nite(sun) though.Btw,i joined a comp held by skool recently,called 'graffire'.wanted to upload the pics of the graffitti competition and a pic from ren ci,guess i gotta do it some how soon.As for SADM,i'm majoring in animation next sem heh heh..take care everyone!
Labels: Weiqi
26 March, 2007
This is from Sam;
"For ya infomation:
WeiQi is currently real busy preparing for his exams.
Nic just booked in to his new camp, posted to be a signaller."
Labels: MLB just blogged, Nic, Weiqi
22 March, 2007
Weiqi's message...
"Hey hey.. i made a mistake... i need to go to an imaging and diagnostic place...some consultant radiologist thingy for an xray of my elbow at Txxx rd area... not yet refered to hospital..."...weiqi, 22Mar07, 01:42
Labels: MLB just blogged, Weiqi
21 March, 2007
Sam blogged!
"大家好!
我很好.
Last weekend's performance was not spectacular, but simple yet heart-warming? We had a good time working together with the others who are more experienced yet easy-going and fun. Thank u for supporting us and charity!
Let me share a story..
..I saw a small white piece of paper on my nice, small, cool, black in colour, fast and furious motor-bike. '_' I walked close and picked it up, it was a FINE! I actually forgot to get season parking for this month, and i realised only now. Not a heavy fine, but i'll hit myself for being careless as i'm usually not (i think). I neglected it..
So what's the moral of this story?"
Labels: MLB just blogged, Sam
Though Weiqi just
flooded
posted this message on tagboard but I'll show again yeah?
This was copied from the blog;
admin said...
msg from weiqi
"hey peeps, i was wondering if u all cld help me pass the msg around. I can't seem to click on the publish icon anymore, it says sumthin like javascript void error..so i can't blog n neither can i comment. Really wanna update u all on wat's going on and wanna answer the questions bout Ntu-Adm but comp got error and my hmwk has been crazy. I didn't slp @ ALL last nite, feel like a zombie, ANyways, Thanks to all who supported by calling that nite, its for a good cause. And jus update u all, we'll most probably have a gig next month!So see u all soon. Meanwhile, I gotta go hospital for checkup this Friday cos it seems like my elbow hasn't healed n my doc said that it's most likely a hairline fracture. Yup, no time to see him until recently la haha. So well, guess i shld learn to slow down a little, cos too busy with all my work and album stuff. Btw i've got photos i wanna upload to show u all too, but guess gotta wait for a time when my roomie's not using his com, then i borrow ba. Meanwhile, everyone pls take care k? Btw, nic's posting is not out yet, but will update u all asap! Cheers!"...weiqi, 21Mar07, 01:40
21 March, 2007 09:49
Labels: MLB just blogged, Weiqi
19 March, 2007
Alright I've browse through the Channel U website and this is all I got (reports relating to Sam and Weiqi)... o.O!
"Bryan Wong, Kym Ng, Nat Ho, Sim Yun Ying and Weiqi & Sam of MiLu Bing tinker on pianos of different sizes, including one gigantic floor piano!"
You can catch the encore telecast
this Sunday at 1.30pm on Channel U
...
Once again, well done Sam and Weiqi!
Source:
Channel U
Congrats to Sam and weiqi for the wonderful performance on Ren Ci Charity show earlier. A very great thanks to Xiu for uploading the videos for the performance. So if you wanna watch the performance again you might want to visit
"MLB Videos blog"

to watch it (or any other stuff about Milubing that you might have missed on TV) again...
If we find out any reports from anywhere about the show earlier we will share with you here asap...=D
Labels: Videos
15 March, 2007
This was reported in 8 days.
WeiQi from Milubing got a grade 8 piano cert.. so is real talent..
just for those who duno this. =DD
Labels: magazine articles
13 March, 2007
[updated]
updates of Milubing
13rd March
: Nic POP (passing out parade) [sounds wrong cux pass out is faint la]
18th March
: renci charity show featuring Sam and Weiqi.
12th April
: music is in the air featuring Sam.
end of april
: expected EP to release
may-june
: promos events for EP (hopefully there is)
Sep/Oct
: Warners Contract End if there's no xu yue
(sorry for the previous date. cux i forgotten that they dun sign the contract on the spot, i tink)
yep. think that's about all. =P
and not forgetting their shifu.
his new restaurant will be opening in
mid-april
. Not only is the food there super nice, it has a nice atmosphere as well. and i can guarantee you that it is worth it to patronize..
restaurant name:
EIGHTEEN CHEFS
location:
EASTPOINT #01-36
(alight at Simei station)
wad you can found there: mainly
cheesebake rice
,
pasta
,
fish&chips
,
italian fastfood
,
ice cream
and
coffee
etc.
targetting at:
upper secondary
and
tertiary students
. (and of cux we welcome
ppl of other ages
to visit as long as u love
good food
)
Cost:
affordable
and there's also a
special price for students
.
the chef is a well-known character who has produce 3 talented musicians who has made a name out for themselves in the Superband competition.
so be sure to patronize when it's open. =D
Labels: Miscellaneous, updates of MLB
12 March, 2007
According to Sam's tag in the blog, Nic's gonna have his POP (Passing out parade) very soon...
Labels: MLB just blogged, Nic
Introducing a new music variety gameshow: "Music is in the Air".
Hosts: Cavin Soh and Jeff Wang
Telecast on: Channel U on April 5 at 8pm.
Guests: First episode: Chia Wei Choong, Ng Imm Khim, Jeremy Chan, Tang Lingyi and
Gary Cao Ge
Second episode: Chanel Pang, Derrick Hoh, Sam from MiLu Bing, Carrie Yeo and
Angela Zhang.
highlight: This show poses wacky music-related challenges to four contestants each week, like singing while running on the treadmill (to test their stamina) and also while tied to a rotating board! Other crazy ideas include getting the contestants to watch a muted music video and sing the song according to the lyrics flashed onscreen while another song blasts out aloud; and to guess the R&B song that an elderly uncle or auntie is trying to sing and then sing along with him/her. And not forgetting to expect more Supers and international pop stars in each episode! =D
Credits to
Channel U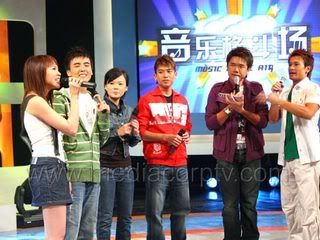 PS: Channel U website wrote Weiqi from MiLuBing as one of the contestant, i think that's a typo, because the pics they post was Sam and what's more, Sam declared that he attended a variety show. =P
Labels: Sam
10 March, 2007
Just a short note to say that our guitarist who has been missing in action for the past few weeks is doing fine in camp.. =DD
so to those supporters of Nic, don't have to worry..
Labels: Nic
09 March, 2007
As promised, this is the link of the article featured in the New Paper on 8th Mar 07..
http://newpaper.asia1.com.sg/show/story/0,4136,124437,00.html
Labels: featuring MLB in New Paper, updates of MLB
08 March, 2007
Today's Newpaper featured Milubing, SOUL, J3 and Lucify - under the headlines "HOT BANDS, COLD REALITY". Just in case you didn't grab your copy today, stay tuned here tomorrow when we would share the URL for you to read online =).
Labels: featuring MLB in New Paper, updates of MLB
just some updates of what's going on in Sam and Weiqi's rehearsal for Ren Ci charity show. (even though not much info on them)
"Size does matter. The first piano to catch our attention as we walked into the studio was the tiniest red piano simply because it looked like a cute dwarf beside the usual upright piano that MiLu Bing's Sam was playing on. But what was more interesting was seeing Bryan Wong sitting on a tiny chair and playing on an equally small piano with just four fingers.
"This item is difficult in the sense that my fingers have to be very stiff when I play on the small piano If not I will end up pressing on other keys," said Bryan, who revealed that he had nine different teachers during the three months when he took formal piano lessons at age nine.
He said with a cheeky smile: "I wanted to run before I could walk. While the teachers gave me pieces like 'Twinkle Twinkle Little Stars' to practise my finger work, I wanted to play songs by Richard Clayderman. They were what motivated me to pick up piano."
Fortunately for Bryan, his good sense of hearing helped him to learn the piano by himself as he often played by ear."
if u are not free on 18th mar to catch Sam and Weiqi on tv, stay tune for the repeat telecast on Sun, Mar 25 at 1.30pm.
credits to
Channel U
07 March, 2007
Sam's tag in the blog;
"Just in case anyone misunderstood..
I'm not doing any stunts for Ren Ci Show,
but i'm ready to accept if requested to.
Bout the game show, it's related to music.
No, i didn't win.
Perhaps i was really nervous."
Labels: MLB just blogged, Sam
06 March, 2007
a big HELLO to all mlbians who are visiting this blog. =D
was just wondering what do all of you think of a gathering that only consists of the mlbians. =DD
it will be a gathering whereby all of us can interact with one another and build up more friendships. since MLB doesnt have an official fanclub, supporters are everywhere and it is quite disorganised when supporting MLB during their events especially if there's other artistes present. and i had also realised that MLBians dun have much interaction with one another except for our own clique. this is just a suggestion though. and im not sure how many mlbians are actually visiting this blog. hahas. =P
so yep. for those who came or passed by this blog and saw this entry, if u think it's not a bad idea, u can leave a tag in our tagboard.. would definitely wish to see the response before organising one. =P
Labels: MLBians
Weiqi's post:
"Hey there!I didn't do the VT with Sam for renci cos i skooling that day..and my elbows almost healed le...on the way ya? and yesh, can still play piano, no prob. But cannot carry my piano le..myabe next week can le. I'll try to be more careful!Take care everyone!
btw-last nite i was in yishun area to attend a wake,and some girls were taking a picture of my reflection from the bus window..i wanted to talk to them but paiseh.jus wanna re-affirm tat we are down to earth people, so jus approach us like u would to a friend ok?I dunno if those girls tot i was pissed(cos my face always looks black) but i wasn't jus felt 'gan ga'.Smile peeps!I need to smile more too sigh.."
*so huixin, ur sis saw the right person.=D*
Labels: MLB just blogged
05 March, 2007
Sam's tag in the blog...
" Halo!
Happy Belated Chinese New Year!
I'm still outdoor-ing at the moment.
Riding.. Cycling.. Biking.. Just started blading.. Falling? '_'
Of course, working on our EP at the same time..
Soon, soon, though i can't confirm a date.
Really wanna say thank you again for being patient and
supportive to us all these while.
About the coming Ren Ci Show, i believe most of you
roughly know what we are up to.
Yes, its not very difficult as supportive roles.
But it takes lots of effort to put all our sounds together
for a good piece of music.
This is for a good cause, Charity!
So we are very glad to be a part of it.
I was just invited to a variety game show on Channel U.
Didn't do very well, but it was a good and fun experience.
All was quite last minute, that's why i'm only sharing now.
This show is pre-recorded, will probably be aired few months later.
Btw, WeiQi's com is currently a little crazy so he can't blog..
May it recover soon.."
Labels: MLB just blogged, Sam, Weiqi
Snapshots of the "Ren ci charity show" press conference where Sam attended few days back, is published in this week's I-weekly on "Starbuzz" page 16...
Labels: magazine articles
03 March, 2007
Sorry for posting this late; here's weiqi's tag in the blog...o.O
"Hey everyone, sorry for not tagging recently, jus wanna say that all of u are very zhun..talk bout injury..i sprained my left elbow on monday! haha but it's not cos of renci la.. we're not doing dangerous stuff for that show. Maybe next time, Sam volunteered anyway. hahaha.. anyways, was trying to keep fit, and rollerbladed,then 'crack' fell down in a weird position and my elbow gave way. We're very busy these days!MLB is gonna be workin extra hard for the days to come! ok, i'll stop crapping now,everyone take care!"
Labels: MLB just blogged, Weiqi
Sam's tag in the blog...
"Yes everyone,
we'll practise hard for the Charity Show.
Xie Xie Support!
Few days of rain..
Be careful, don't catch a cold."
Labels: MLB just blogged, Sam