30 November, 2007
upcoming event of MLB

Date: 08 Dec (Sat)
Time : 2pm – 8pm

Enjoy the tunes of local compositions 'live' on a bus ride!
Wanna be serenaded on your mundane bus ride?
Hop on to S-POP HURRAY! Concert On The Move! Consisting of 3 bus trips running on SMRT Bus 106 route which travels between Bukit Batok Bus Interchange and Marina Centre, S-POP HURRAY! Concert On The Move is a free bus ride service.
Interested? Simply make your way to locations below at the scheduled timings or be at any bus stops along the Bus 106 route (first-come-first-serve basis and subjected to limited capacity).
Priority will be given to those holding the "Priority Boarding Pass" received from Channel U or Yes 93.3 FM, Capital 95.8 FM and Love 97.2 FM.
Get your "Priority Boarding Pass" now by emailing your particulars and contact to ucontest@mediacorp.com.sg (first-come-first-serve basis, closing date 5 Dec)!

Besides enjoying the tunes of local compositions, goodie bags will be given away during the concert. There will also be limited-edition S-POP HURRAY! premiums to be won!
Performing artistes include
Mi Lu Bing
, Cai Lilian, Project SuperStar finalists Diya, Nat Tan, Carrie, Lingyi, Candyce, Sugi, Mingyao, Lesheng, Wenhai, Jeff Teay, Jeremy Kwan, Maxilian, Leon and Campus SuperStar finalists Teresa, Zhengning, Adriano and Marcus.
S-POP HURRAY! Bus Schedule* and Boarding Locations
2:00 pm: Marina Centre, Raffles Avenue (Bus stop under Benjamin Sheares Bridge)
Featuring Special Guest Artistes Mi Lu Bing
(Hosts : Cuifang and Yes 933 DJ Weibin)

4:00 pm: Bukit Batok Bus Interchange at 106 bus route boarding line
Featuring songs from Xin Yao performed by Lilian and performing artistes
(Hosts : Cuifang and Love 972 DJ Lilian)
6:00 pm: Marina Centre, Raffles Avenue (Bus stop under Benjamin Sheares Bridge)
Featuring theme songs from local Chinese dramas
(Hosts : Cuifang and Capital 958 DJ Mingde)
* Schedules might be subjected to changes depending on traffic conditions on the day.
Labels: Events
woo~~ weiqi tagged again~~
weiqi @ 1809 | 30 November, 2007 18:14
"Urgent news! Just in: For MLB fans and Daren Fan club : discount for the $48 and $38 tier at 50% discount. Please Quote: 6range63 before buying tickets at any ticket.com outlets. I'll be doing a post tonight with the latest events and line up for this month.So not to worry, i tot i'd better put a little post here 1st."
so yep~ just like wad mk says.. those who havent buy the tics, please try to attend ya?? since you can get it at half price le..
-----------------
weiqi. it's too late. those who bought the $48 and $38 tics will "kill" you.. hahas.. *joking*
Labels: Weiqi
just a reminder..
to those who have response to the participation of the CIP event as our MLBians' Gathering, please check your emails for more details and do reply us if you'll be able to make it or would not be able to make it. *smiles*
thanks~~
Labels: our msg for MLBians
29 November, 2007
December Stars 2 album updates..
the cover.
everything about the album. *extreme right is the pull-out poster*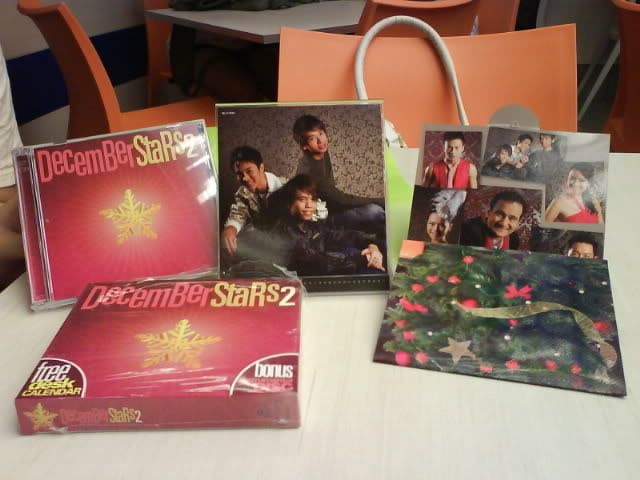 the table calendar.
Note: we will not send this song online. If you wish to listen to the song, please do support the album *smiles*
27 November, 2007
weiqi is back in action~~ hees.. =P
weiqi @ 27 Nov 07 20:06 said...
"yay..exam over le.Feel so tired,i think i'm gonna slp for a day or so haha...take care peeps!"
Labels: Weiqi
YES93.3 updated their Singapore Hit Awards 2nd Bao Chang Hui at Vivocity.
here are some photos from the gallery.. please rmb to credit to yes93.3FM if you wishes to post the photos elsewhere.. thanks..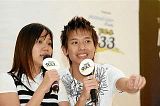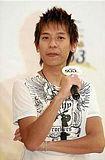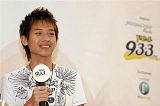 for more photos of that day, click
here.
PS: they've uploaded the photos on the say of SHA itself too, BUT there isn't any photos of MLB's front view. *as in individual photos of them*
26 November, 2007
message from *shd i say us??* hahas... anyway, yep~~ here goes..
if u guys remember... some time ago, we were initiating the idea of MLBian gatherings? and then some of you came up with some ideas on where to go and such...
wells, for now we're thinking of doing
CIP in dec
, probably at a local children's organisation. will most probably be during the
weekend, in about mid-dec, or about christmas season. [no worries, we'll make sure it doesnt clash with any mlb events =D]
just wanna ask around and see if you guys wanna join us in this, so tt perhaps we can get more things done with more people going. nothing's confirmed yet, jus wanna know the rough number who're interested. but we do hope that we can accomplish this meaningful activity as a family~
but just to re-emphasize, MLB will NOT be there, it'll just be a trip for the MLBians.

yupppps.
if you guys are interested, do let us know!~ =) [let us know on the main blog, here, or preferably if you've got our contacts, you guys can contact meikian, peg, yuanping or shihui too. same goes, any questions can be directed to us too, but nothing's confirmed yet so far]
cheerios~
Labels: MLBians, our msg for MLBians
25 November, 2007
Weiqi tagged....-_-!!!
"heh heh..actually it's a scene from my 3D short film...so it's all computer generated and i modelled the jeeps,tents,fences and mountain..haha..think most of u already suspected so..cheers! :)"
Labels: Weiqi
24 November, 2007
(edited by pegg)
oh ya, thanks pegg for informing - December Stars 2 is out in stores now! Sembawang Music Centre is selling at $17.90. haha.
To those that are unsure, Milubing performed a song "Rockin Around The Christmas Tree". haha.
***
REMINDER!
Don't forget to watch out for Milubing on "S-POP Opening Concert" on either
26 November
OR
3rd December
, 7pm to 9pm.
FYI, there is two episodes to this Opening Concert so we ain't sure which episode will Milubing appeared in =); hence, stay tune on 3rd December if you didn't see Milubing on the 26 November's episode =).
Labels: our msg for MLBians
Thanks meiyi for informing...
~~~~~~~~~~~~~~
"
Win a copy of MediaCorp's Christmas album December Stars 2!
What has been your most unforgettable Christmas to date? Share it with us and you could win one of five copies of MediaCorp's Christmas album December Stars 2! The album features familiar Christmas songs like Santa Claus Is Coming To Town, Last Christmas, Grown Up Christmas List and White Christmas performed by stars Fiona Xie, Felicia Chin, Joanne Peh, Jade Seah, Adam Chen, Bryan Wang, Nat Ho, Ben Yeo,
MiLu Bing
, Adrian Pang, Gurmit Singh, Tay Ping Hui, Daren Tan, Tan Diya, Juz B, J3 and the young singers from Campus SuperStar 1 & 2.
The album also comes with a bonus eight instrumental songs for you to karaoke to, a pull-out poster and a desk calendar of the stars.
If you don't want to miss out on this great freebie, write in to us before Monday Dec 10, 12 noon!
visit this webbie for more detail. :DD
http://8.mediacorptv.sg/contests/announcements/view/464/.html"
Labels: Albums, how to win...?
weiqi | 24 November, 2007 00:57
Hey all, thanks for all the continuous jiayos and the enthusiasm bout dec. Yup, i know bout the ani fest thingy,i got free ticket but not going cos of my studies la...or even after exam also can't cos got errands to run(plenty). I'm quite curious about the reaction to the pic i posted though..so i'm going to launch a mini contest,just for fun k? Someone guess where was this sunset taken.See who managed to guess correctly ya?no prize la,just for fun.Cos i find it interesting from the responses so far..all sala so far..i think sam would know heh heh..he always take photo of such scenes... :) take care peeps!
Labels: Weiqi
22 November, 2007
Sorry for the late update (I wasn't online just now...), weiqi blogged!
"
says hi
milubing | 22 November, 2007 16:21
Hello mlbians. I'm back from the grave, but still gotta stay at the graveyard for a while more.Will be out entirely after the 27th.Honestly speaking i haven't been to this blog since the last time i posted.And now that i'm back,I wanna thank all who said jiayo to me k?So what have i been doing?well,since last monday,i've been eating out of styrofoam boxes and using plastic spoons.haha.since the previous sunday,i've been slping in school along the corridor outside the maya 3D lab.But thankfully my friend at hall(my prev roomie)allowed me to slp in his room since last night.So things will be better.I've finally finished my short 3D video,and some other stuff,now i'm back working on them.I should have taken some photos of my working environment in school ya?think it's quite a sight.The lab looked like it was our own house!hahaha...towel and toiletries hanging around,sleeping bags etc.but now 90% of the people went home to study for the 2 papers next mon and tue.I'm staying till friday cos i still got other submissions.It's been crazy,i didn't sleep from tues morning until wed night when i handed up the major projects.But now i'm back in action.It was painful,frustrating,tiring,but at the end of it,it's rewarding.That's an animator's life?I guess it's about passion,rather than anything else.I'd like to discourage you all from learning my sleep management haha,cos i could have done better,but having a promising band and a great studying chance doesn't come by easily,that's why more is given,more is expected.So my case is quite different,thus a little screw up along the way,will butterfly effect into me not being able to slp for a day or 2.Well well,i think today i'm in a naggy mood,talk so much to u all,but guess it's cos i miss being here,misss looking at the black background and orange words of encouragement, and live from our MLB family.So here's wishing everyone a great weekend ahead,and usual, everyone pls take care! :)

p.s. dec's lined up with quite a number of events, so we'll see you all real soon! And the sunset image is a little capture from my video! :p"
Labels: MLB just blogged, Weiqi
21 November, 2007
Sam tagged =D...
"sam | 21 November, 2007 12:35
Yo yo.
Good afternoon.
My friend took this picture of me, he was out riding with me. Old friend, you don't know him. =)
Yes i definitely remember u HDBhub-girl, i think ya name sound nicer than this definitely.
Lunch time!"
Labels: Sam
19 November, 2007
(edited by pegg)
Alright alright. My hands are itchy now.
Next up...
1) S-POP Opening concert
When? - 26 Nov, Monday, 7pm
Where? - CHANNEL U
Remarks: If you guys have time, lets watch it "together" alright? Especially those who didn't attend the recording on 16 October. =D, finally can "see" our milos again after so many weeks...though it's not "live", but better than nothing right? =D!
Heard from those who attended the recording that, the milos will be performing "lei"...
PS: we're not very sure if MLB will be confirmed appearing in this slot of the S-POP concert. because they divided the concert into several parts. so yeah~ we're not very sure which slot they will appear too.. hahas.. =X
2)...the day where weiqi will "become human" again?
When? - 27 Nov, Tuesday
Remarks: Let us all wish weiqi all the best for his exams! Jia you, weiqi!
3) Beatbox Asia Championship 2007 - grand finals
When? - 20 Dec, Thursday, is it 7pm or 7.30pm?
Where? - Singapore Expo The Max Pavillion
Remarks: As mentioned by Weiqi, they will be judging as well as performing a few songs on that day. Currently, some of us already bought the $68 while I think some bought $48.
Since this is another event that requires you to spend money on the tickets, do not feel obligated to go (as mentioned by sam). Only purchase the tickets if it's within your means, alright? If you are unable to go, it's alright...like what the guys said, they appreciate your support =)...or you might want to look for people and form another group to buy the cheaper tickets...
To those that can make it but have yet to buy the tickets, check
tickets.com Singapore
for ticketing details...
Thats all folks =D
Labels: updates of MLB
thanks yiwen for informing, December's teenage got a short report on SHA2007. Nothing that we don't know but of course can see Milubing's picture =D...
We would be very grateful if you don't mind scanning the picture or the article for us to post it here? Thanks =D!
Labels: magazine articles, SHA07
Sam blogged =D!
Lunchbreak
milubing | 19 November, 2007 12:41
WeiQi's working extremely hard on his school assignments. Jia You man!

Nic is serving our country, doing fine. Way to go!

I was absent from here for a whole week. Trying to fix my com which was giving me a headache! Yea I'm not good with this, fortunately I had the help of my brother. Back in action now, hope it'll not die on me again..
Spacious, quiet and empty places like this one, my favourite. Had to pay a visit since I know it's open. Classy decorations, cool air, smart and nice looking skylights, clean washrooms, can I stay at the airport?
-sam
Labels: MLB just blogged, Sam, updates of MLB
13 November, 2007
13 Nov 07, 20:43
weiqi
: hey peeps,I'm just droppping by to say hi!Hope everyone's having a gd day..
Take care...
***
Weiqi take care and jia you too~
Labels: Weiqi
12 November, 2007
Sam blogged =)...
***
Long Weekend
milubing | 12 November, 2007 13:07
East Coast Park was repeatedly mentioned in many tags earlier. So as not to lose out, I had to go there too!
Last week.. On a 风和日丽 day..
3 guys on off, 3 small bikes ready to fly on the roads, were spotted at ECP.
"Child's play"
Have a great week ahead ya!
-sam
***
Then...
" sam said...
Yea, was riding the blue one.
And i was stone.
And the plane was captured on purpose, not easy! =)
Take care!
12 November, 2007 13:55"
Labels: MLB just blogged, Sam
11 November, 2007
Here are a few more pictures of Sam at the Street Rock Concert at Vivo city on 26 October. Thanks whey` for sharing =)...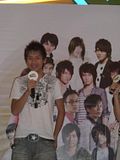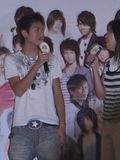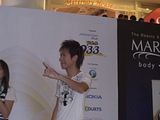 Labels: Pics
09 November, 2007
[REPOST]
Sorry for the long wait - here are more pictures - taken during the autograph session @Suntec City - provided by yiwen. Thanks yiwen for taking the time to reupload the unedited ones =)...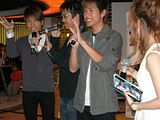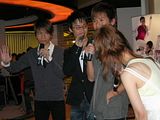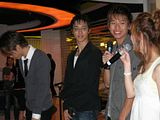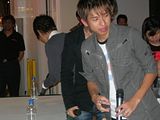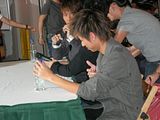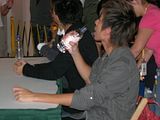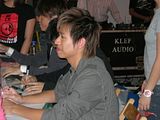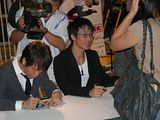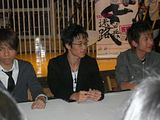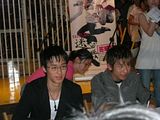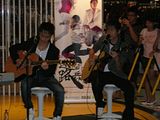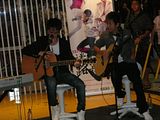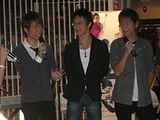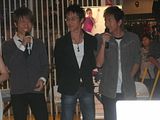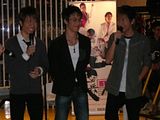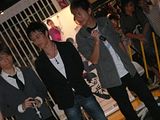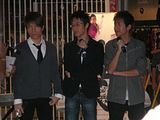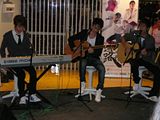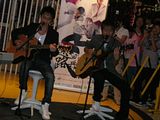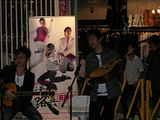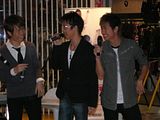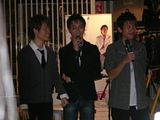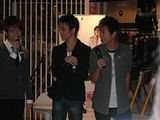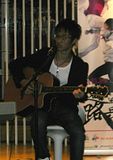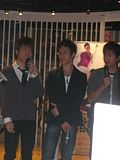 Labels: Pics