31 May, 2007
Weiqi's tag in the blog...
weiqi said...

Hey there! Our Music in the air is gonna be recorded on next thursday. :)

31 May, 2007 00:18
Labels: Events
30 May, 2007
Weiqi 'interrupted' in between Sam's entry...
~~~~~~~~~~~~~~~
Heh heh, sorry i interrupt Sam's post :p
Jus wanted to say THANKS so much for making down to the scorching hot changi naval base that day k? we didn't know that the situation would be so bad -> long queues, poor transport, heat wave etc. And we really appreciate u all for taking the effort. We really feel sad for those who were still in the queue at hall one in expo when we were singing. It was a pity that we had to rush off that day despite the 'encore' requests, cos the bus had already been booked, and the sound delays made it even worse, so we had to run off.
Btw, we wanted it to be an anniversary event by singing 'xi huan ni' cos we haven't sung since i dunno when! And we wore the MLB tees together. Wish things cld have gone better,but life's not straight.
This weeks gonna be super tough for us,cos we've got our MV shoot! So exciting!we're also most likely gonna appear on music in the air!SO can catch us on tv soon ba... Hope i've given u all enough info for the time being :)
btw,sheng shiong event..most likely i will not appear on that show cos i'm kinda busy,gotta deal with my personal workload at hand. so i think only sam and nic will appear ba.
Take care all! paiseh hor Sam..'chup' your post heh heh...
Labels: MLB just blogged, updates of MLB, Weiqi
29 May, 2007
Sam's new entry at I-think-2.08am...
I've got a new laptop finally.
I'm feeling so tired now.
Gonna take a rest..
Wish all a good day ahead.
-sam
Labels: MLB just blogged, Sam
28 May, 2007
Sam's tag in the blog...
sam said...
Hey everyone. Yesterday - SUPER HOT! Thank u to those who came around and share the heat with us, and i really feel sorry for those of you who didn't make it on time due to the bus-hiccups. Wished u all could fly in, thank u too!
Yes, our EP will be appearing around June/July. Sheng Shiong Show, i'll be judging for the next 3 weeks then Nic will probably take over.. I think contestant no.3 yesterday was good! '_'
28 May, 2007 15:28
Labels: MLB just blogged, Sam, updates of MLB
actually nothing much to recap for the Changi naval base event. more complaints though. LOL.
but anyway, here it goes.
The guys sang Xi Huan Ni followed by a break whereby the host, a male DJ(forgot his name) chatted abit with them. Initially, he asked us what did the guys just sang:
host: What did they sang just now?
us: XI HUAN NI~~
host: who xi huan ni?? (please translate to chinese to make sense)
us: *silence*
LOL. nobody know how to reply to this qn.
after that, the host talked to the guys.
host: so what are you guys busy with recently?
Sam: we're filming the MVs for our EP.
host: so when will it be released?
Sam: around June.
host: so all of you (MLBians) must stay tuned to the tv and see if their MVs will be on tv. Now they will bring you another song by Jay.
Sam: Yi Lu Xiang Bei
they started singing. and after that Sam said they're going to sing a English song, Chasing Cars.
after everything, some of the MLBians shouted encore. Nic asked what song to sing, they proposed Yong Qi. but then in the end, no encore. the guys came out for awhile to interact with their supporters but most of the time, they were in the backstage keeping their instrument and getting ready to go back. Sam had to report back to Mediacorp for the recording of Sheng Siong variety show.
and in the Sheng Siong Variety show, Junli requested Sam to sing but he did not, he just replied saying, "Good evening everyone, I'm Sam." and went to sit at the judges area.
yep. that's all~~
and latest updates: the next gig would be when the EP is release.
Labels: MLB events recaps, our msg for MLBians
27 May, 2007
Sam's latest entry in the blog...
This is very very very late update, our show at Navy open house is bout 5pm! Afterwhich i'll be going to Sheng Shiong Show again. Whether i'll be judging or not for the next few episodes is up to the producers, i'm free and easy. It's quite interesting to watch the children perform, they're really cute. But i do feel a little sad when i see tears in the eyes of the young contestants booted out.
Rest well everyone, we'll meet later!
-Sam
Labels: Events, MLB just blogged, Sam
26 May, 2007
hey everyone.
sam will be attending tml's Sheng Siong Variety Show again as judge at 9pm.
we have 13 tickets available to distribute to the MLBians.
those who are interested in going to the show, please email us at lostsoldiersmlb@gmail.com with your name, contact number and how many tickets you wish to have.
this is base on first come first serve basis. all mails should be send before 12pm tml. those who got the tickets, we will contact you latest by 2pm tml. thanks for your cooperation. =)
to add on, we will update once the tickets are fully taken. =)
25 May, 2007
this sunday's event would be at 5pm.
do attend if you're able to make it.
it's definitely a gig not to be missed. =))
Labels: Events
24 May, 2007
I've set up a group in Taiwan yahoo.
just in case they venture smoothly to Taiwan. =))
so do join the jiazu ya?? thanks~~
you can log in as long as you have a yahoo account.
this is the link to the jiazu. it is still constructing though.
獨一無二的迷路兵
http://tw.club.yahoo.com/clubs/unique_milubing/
feel free to share infos there. and due to the jiazu having no vice-president now, i will decide upon seeing the supporters contribution, thus everyone has a chance. =)
and i suppose if MLB saw this, you can join too?? =) but that's provided you have a yahoo account.
Labels: our msg for MLBians
23 May, 2007
Whoa sorry for the late update; here's Sam's tag in the blog...
sam said...

Yes, we definitely hope to see all of you at our gigs. Even those who can't make it, we're already glad to have your support.(like Lorita who's overseas and other of you who are busy, jia you ah)
Chong Qing was injured, but thankfully its not very serious and he's feeling fine.
Sheng Shiong Show, the nice jackets doesn't belong to me. I like them too.. '_'
Have a nice day!

23 May, 2007 11:40

Labels: MLB just blogged
22 May, 2007
HERE COMES THE 300TH ENTRY!!! New entry from the guys in the blog...
milubing | 22 May, 2007 02:32
Halo dear people!
3 of us are together now, had a short jamming session earlier. Now we're relaxing and gaming. Sounds good yea? We'll have dark darker darkest eye circles tomorrow. Last Saturday was a fun one, we all were winners. Wroom Wrooooom!
This Sunday, we'll be sharing a few songs at Changi Naval Base. The actual time should be at late afternoon, will confirm it when we're sure.
Thank u Xiu for always being so efficent, and thanks to the publicity blog gang for being so updated!
Goodnite!
-MLB
Labels: Events, MLB just blogged
21 May, 2007
This recap is for those who did not attend the Motorcross Challenge event on 19th May 2007, 7pm at Scape.
The guys reached at about 6.45pm at scape. They then took a few pictures with their fans before they were asked to change their clothes. After changing their clothes, they came back and continue to communicate with some of their fans before they were asked to go into this waiting area where all the artistes gather together. After some briefing and discussion among their own groups, they were ready for a trial run.
Nic and Sam had their trial runs (I can't remember if WeiQi had his trial not, but I do not think so). Nic had a little accident(but he's alright), probably due to him not able to get the hang of the bike yet. Sam, obviously had his trial nice done.
After resting for awhile, the race started with both teams' leaders hosting and introducing their members. They agreed upon safety first, friendships second and competition last.
The names of the 2 teams are:
Crash Dummies - Wu Luo Yi, Cui Fang, Carrie, Nat Tan &
Nic
.
The Traffic Police(TTP) - Li Teng, a girl who's believed to won the chance to bike with them,
WeiQi,
Diya &
Sam.
(the names are arranged according to who verus who, do correct me if i'm wrong.)
Both teams shouted their cheers and TTP shouted twice because the first time, Sam said the wrong thing.
The race then started.
Li Teng had a little hippcups during his first lap, thus Crash Dummies was the leading team.
But WeiQi came to a tie with Carrie. But then, Nat won Diya in the next lap. During the last lap, Nic was originally leading but Sam overtook him and came in first. He then tried to do a stunt of making his bike stand up, but failed. However, both teams did not let this affect their friendships. =))
They took some pictures and the winning team, The Traffic Police walked away with a medal & a Get-Life membership from 77th Street.
They then took some interviews with the reporters and Sam had his individual interview before they were invited to eat. After awhile, they came forward and quite alot of people requested taking pictures with them. After that, they were asked to gather again before bringing them to change back to their clothes.
yep~~ that's about all. help it helped those who couldn't attend the event. =))
PS: if this recap is useful, maybe we will post more of these for those who couldn't make it for their events. hees. *but it all depends*
Labels: MLB events recaps
19 May, 2007
Weiqi tagged:
weiqi said...

eh...fyi, the wall is already completed ya? haha..they opening maybe next week or sumthin..real soon.I think MLB will have fun later...vroom..jus pray for safety of everyone :)

19 May, 2007 02:32
Labels: MLB just blogged
18 May, 2007
Weiqi tagged:
weiqi said...

Hey everyone, jus fyi, benny's restaurant is right beside POSB at east point,opening quite soon. The 3 of us are looking forward to sat's game! heh heh... take care peeps..

17 May, 2007 22:48
Labels: MLB just blogged
17 May, 2007
(Weiqi's latest entry...)
Some photos...
At RP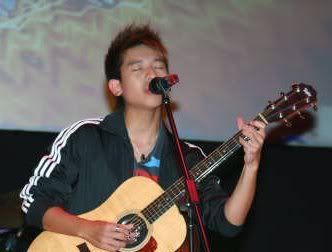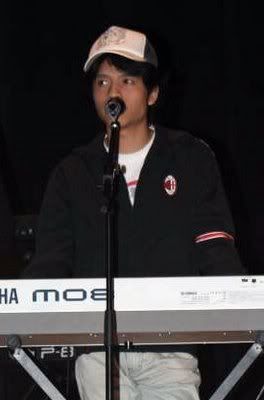 Downtown East
Sam preparing b4 the GIG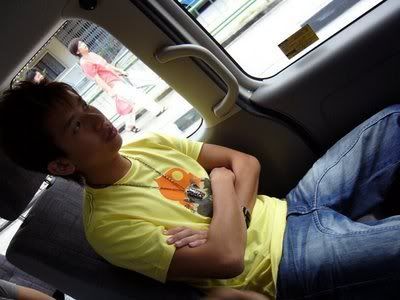 "Wud??"
FRESH Nic..
Everyone smile hor...
walau... i say smile ma.. tsk..
Thanks for the support that day at downtown east! So glad to see u all! :)
I've been busy painting Shifu's restaurant wall..so sorry..never blog heh heh..
Must 'peng chang hor' :)
Take care all!
Labels: MLB just blogged
13 May, 2007
Sam will be appearing in today's 9pm variety show, bin fen wan qian zai sheng siong on Ch 8
do watch it if you're at home. =))
Labels: Sam
Sorry for the late reminder. If you had missed Sam and other Superband drummers' performance, the encore telecast of 一心一德为善乐 is on today, 3.30pm at Channel 8...
Labels: our msg for MLBians
12 May, 2007
Ten thumbs up to Milubing for putting up a great performance at the concert @ May Day carnival in Downtown East.
They sang Jay Chou's "qing tian" and "yi lu xiang bei", as well as two English songs "Boyfriend" and "Chasing Cars".
After singing "Boyfriend", Sam wished the mothers "Happy Mothers day" before continuing with the last song. When they finished with the last song, the host joked with them – they seemed to be able to please females of all ages – first they got "Boyfriend" then Mothers day wishes. =D!
This is the picture I took before they left. If you, who were there as well, took other pictures and want to share with us, feel free to send it to us. Thank you.
Labels: Events, MLB events recaps
It's confirmed that MLB (all 3 of them) will be taking part in the Channel U Motorcross Challenge at @scape next Saturday, 19th May at 7pm. =))
do go support =)
shall follow weiqi's style too.. hees, a hint. next sat might not be the last time we will see the guys in this month. hees.. =P
Labels: Events
Announcement from the
main blog
:
Due to technical error at the latest entry "East side", please post your comments, if any, at the previous entry by Sam "It's over". Sorry for the inconvenience, thanks.


Labels: MLB just blogged
09 May, 2007
For Milubing's performance this Saturday, it's
OPEN TO THE PUBLIC.
Labels: Events
Weiqi's tag in Sam's latest entry....
Hey there Mlbians.. Sorry for not updating!Been wanting to but so busy!There was nite of recording where nic and i ate our dinner at 5AM! haha kinda crazy.Sam after that still had to go nite cycling cos he already agreed with his friends.Recently the 3 of us have been jamming real persistently,every nite,to bring u all a good show this Sat.So yup,have been working real hard.Personally,i'm also busy with learning to drive and doing some freelancing here and there.Everyone take care ya?? :)
09 May, 2007 01:08
Labels: updates of MLB, Weiqi
(weiqi)East side... at 09 May, 2007 01:20
Calling all MLBians!!! There's a MLB gig this SAT!!!
Official Advert:
"Head down to the giant playground at Downtown East to sample its rich offerings of entertainment and variety show as well as to find out what the labour movement has done through its 12 social enterprises - NTUC cooperatives and related organisations - to improve the lives of our workers and their families. The carnival is a potent combination that promises serious wholesome fun for the entire family."
Date: Saturday, 12 May 2007
Time: 9am to 8pm
Venue: Downtown East
GOH: Mr Lim Boon Heng, Minister in the Prime Minister's Office
Our show's details:
1.30pm NTUC Mayday Concert Downtown East - D'Marquee
We have been practicing EVERY nite for this gig heh heh... cos 3..YES 3 NEW SONGS!
2 Chinese songs
and 1 English song
Any hints? mmm...let's just say the english song sung by a female singer originally, and the 2 chinese songs are sung by the same guy,and we have ever done his song once during SB days heh heh..
Regarding tickets, i not sure if u need tics to get in to watch.I'll do a check with our manager and get back to u all k?cos i tot it was open to public ma... :(
Take care!
P.S. this photo summarises how tired we have become after all tat jamming...and midnight charge from cab fares...
Nic's new friend
Labels: Events, MLB just blogged
08 May, 2007
The dark Sam blogged;
"The days of a pregnant man are gone. I feel so relieved that the show we put up was fine, cos sticks usually fly around during rehearsals and we aren't always able to catch the throws. Thank u for supporting charity. Bored to hear that? '_'
I had a good supper with my dear brothers that night. We're gonna be practising in the next few days for our performance this Saturday at the Mayday concert, hope to see all of you around. Meanwhile, i'll be out tanning under the sun..
-Dark guy"
Labels: Events, MLB just blogged, Sam
06 May, 2007
Here congratulating Sam for accomplishing yet another wonderful performance on Thye Hua Kuan charity show.
Thanks to Xiu who already uploaded 响鼓齐献力 onto the video's blog; but the size is big so be patient while loading. Enjoy the show.
Don't forget to catch our Sam together with other 4 superband drummers on 一心一德伪善乐(Thye Hua Kuan Charity show...hope I didn't mispelt it) on 7pm tonight at Channel 8 =D!
Sam jia you!
Labels: our msg for MLBians
04 May, 2007
Sam's latest blog entry...
04 May, 2007 01:33
Uncles, aunties, brothers, sisters, didi, meimei, we're happy to have support from all of you, whether in Singapore or in other countries.? We'll continue to produce better music each time!
Some of ya managed to get tickets for this weekend's charity show, so LI HAI. I think it'll be like a concert as there are many singers performing, local and foreign. May it be pleasing to thy ears. And i also hope that we drummers will put up a good and noisy show, for all to enjoy. Heh!
I had coffee and prata this evening, WA.. Followed by rehearsal, 0H.. I'm going to dreamland soon, yea..
Goodnite all, have a wonderful Friday, and Saturday, and Sunday. Everyday!
I'm cool, thank u.
-sam '_'
Labels: MLB just blogged
03 May, 2007
Sorry sorry didn't realized this - Nic's tag in his earlier entry...
"NIC @ 28 April, 2007 01:55 :
Wah...the weirdest gig ever...anything tht could go wrong went wrong...eg... FIRE ALARM!!! haha...super amusing though...will get upload the vid soon n blog with the guyz asap bout it..coz i duno the interface...heee.."
Labels: Nic
01 May, 2007
Thank u
01 May, 2007 00:13
...to all who came for the concert to support charity and us. Even to those who couldn't come, we're thankful for ya support here too. Really glad that most of u enjoyed our performance. And the compliments not only make my day, but also spur us to work harder, cos there's still alot more room for improvement. We'll always try to bring better music each time! Jia you!
Seems like there are more charity shows these days.. Eh.. For a good cause ah.. We drummers got alot to practise for this Sunday's THK show. Jia you! '_'
These few days gonna be hectic for me, but i'll still dig out some time for my bike and MOTORbike. WROOM WROOOOOOM..
Everybody, jia you in whatever ya doing!
-Sam
Labels: MLB just blogged