30 May, 2008
weiqi | 30 May, 2008 03:19
hey hey..been busy doing some research on keyboards..so been up these few nites...jus to confirm,Nic will be alone for the coming performance. Take care peeps...nite
Labels: Weiqi
29 May, 2008
Thanks pekchoo for providing =)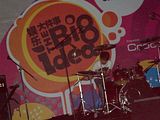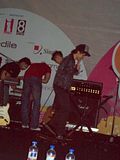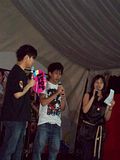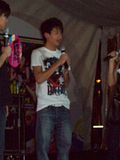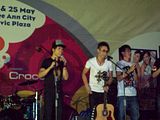 Labels: Pics
MLB :
milubing | 25 May, 2008 01:34
power la happening just now you all..
tml morn 745 report camp show.. darn shagged out man..
BUT! Today was really a great day.. had so much fun.. n u guys realli made it all happening with the screams! hope we did SG proud with the 3 men thing.. next album's gonna be happening with bigger sound with mr macbook ard :0..
looking forward to see ya ll again.. tml will put a proper post.. need sleep man..
eye's killing me..
will put on some weight aft nov ord..
but may be posted outa mdc to signals soon.. oops stay in.. hope for the best..till tml!
-
nic
Hi everyone, firstly thanks for coming down ya? and for the cheers and support. Chen shu was done as a preview, therefore we didn't do it band style today. u'll hear the actual thing during xuan chuan period. it is also random that we chose to sing it today, and mite/mite not be zhu da. Just a preview for u all :D
Here's a big JIAYO to all those having papers..cos majority of the letters i read were complaining of papers...i feel your plight and anxiety..but hang in there!u can do it! :)
p.s. nic meant from MDC transferred to signallers camp. Let's hope he still can join in the xuan chuan! haha.. anyways,for 1st of june,sam n i will not be around.only nic representing the band..but with little surprise installed. Take care mlbians...
-
weiqi
Good morning steady people.
They've said it all. We had fun, a pleasant time on stage, with no hiccups. YEA =) Hope ya all enjoyed the same way we did. Thank u for being part of the night.. Hmm.. Cheng Shu.. Hmm.. I would pronounce it shu (mature), though in the song itself we sang shou for better sounding sake. Anyway, no serious mistakes ba.. Relax..
Goodnite!!
-uncle
sam
Labels: MLB just blogged
27 May, 2008
not completed song lyrics for cheng shu.
说不定这次学会
把手袋加上点防备
没有必要后退
向前勇敢面对
仿佛挣扎好几回
害怕后悔
失去也不可悲
但说并不冷漠 要去追不怕忌讳
说不出的感受
多了一点感动
--------
会看清我
我会成熟 我也会成熟
让你跌破了眼镜
认识全新的我
失败错误总有
但我还是太痛
不被轻易左右
不拼就会反驳
我不会强求 我不会罢休
让你感动了以后
去接受新的我
hmmm. the lyrics are accordingly to wad i've heard la.
some parts not tt clear, thus it's indicated with a -------
some of them might be wrong too. but just to those who wishes to know the lyrics.
i personally like the chorus part.
Labels: Songs
wOOH You can see Sam's picture with the rest of the Sheng Shiong show peeps in Dasmond Koh's blog
here
=)
Labels: Sam
Alright here's the nearer but not clearer video uploaded by qianhui - 成熟...
then jane found this too - 路. credits to the person uploading this!
Labels: Videos
26 May, 2008
weiqi | 26 May, 2008 04:18
goodnite to all! and once again thanks for coming down mlbians! could u guess whose car we were in while on the way out of MDC? hmm... we're glad tat mlbians showed their support tonight by calling in and supporting this meaningful event. let's hope that the money raised will be of much use there. btw, at 12 midnite i was alerted by a MDC insider that the amt raised went up to over 9 million! so that's really great. Majority of S'poreans have a big heart.. jing shen ke jia! ;)
In case some of u didn't know, Nic had an eye surgery (actually eyelid) yesterday b4 the taka show. His eye is super BLUE BLACK, like gena punched. that's why bo bian,had to make him wear that tinted glasses just now.He is really the most poor thing at this moment..along with having to deal with the change of vocation during a crucial period such as album promotion.hmm.. let's hope for the best.
So here's a 'goodnite' to all mlbians.. and a thank you all for helping the ppl affected by this terrible earthquake. Take care, and take some time to consider how fortunate we are to be in s'pore, and to have our love ones beside us, still around us. Appreciate each other.
p.s. tmr i'll try to upload a photo we took during i weekly show. and there's some vid uploads in youtube of that nite's performance.
weiqi | 26 May, 2008 04:25
oh ya, b4 u all say i dao/tao. Thanks for the encouragement bout the singing.I just feel that i want to(and need to) really train properly under a vocal teacher b4 i ever take a vocal lead. so for now, hope u all understand that i do not want to jeopardize the band in any way,so i'll play my role accordingly to how i deem best with my available contribution. So dun worry peeps,i'll work hard. there's so many other areas that i can research and improve on to boost MLB..which i'm seriously going to spend some time on during this hols. Guess u guys/gals will understand during xuan chuan period ba. :p talk to much le. nite!
p.s. glad that mlbians are welcoming the new baby(chen shu) with lots of love and care!hope u like the other babies too..
Labels: Weiqi
Wooh Jane found this in youtube...not so clear though...
成熟...preview of a new song in their upcoming album...
get alive...
Labels: Videos
22 May, 2008
Busy weekend 4 a gd cause
milubing | 22 May, 2008 15:43
Hi everyone!

thanks

for the encouragements and constant updates.. here's an update of what we know :)

This Sat (

24May

)


7.45pm

iweekly show starts


7.50pm

MLB singing 3 songs ( G A, L and ?? ) *hint hint*


p.s. the idea of singing old qf songs is kinda cool! but as usual, we gotta follow requirements of the event etc... except for the ?? which we heh heh..asked for. btw we won't be @ MDC.



This Sun (

25May

)


7pm

MDC earthquake relief program. MLB will

definitely

be there to support this event for a good cause. :)
p.s. this is one of the ways MLBians can contribute together! :D

hope this info helps mlbians!




?? = cs
Labels: Events, MLB just blogged, Weiqi
Wooh sorry for the outdated news, cos we were very busy lately...
Thanks syL for informing;
"hey all..
933 is giving away i-pop concert VIP passes!
i not sure wad other time slots are giving, but ytd night i heard one is night programme, around 11+, going to midnight.
5 pairs of VIP passes can be won each night.
can go try and win bah. =)
and the 1 June IMM event, i weekly giving VIP passes too. can go check out. =)"
and thanks mk for informing;
"there'll be a live auction at the Channel U Always Fun party at IMM on 1st june...
two items that they're auctioning will be -
-Superband cap with Milubing's autographs [starting bid $30]
-Superband T-shirt with Milubing's autographs [starting bid $50]
more information here-
http://archiveu.mediacorptv.sg/alwaysfunparty/auction_en.htm
cheers~"
Labels: how to win...?
16 May, 2008
weiqi | 16 May, 2008 01:30
oh dear.. chicken pox, papers? here's a big "JIAYO" to u all to get thru your problems each day! As for the 3 of us, the pace has simmered down due to this part of the workflow...so i'll have less late nites le... in fact i going to slp now!! yay.. so no worries..we just need to hang in there. If i'm not wrong, the album will be out in mid july. see ya all soon and take care!
Labels: Weiqi
15 May, 2008
1st June Channel U event
U频道Always Fun派对:
日期:6月1日
时间:5PM 至 10PM
地点:IMM 3楼(花园广场)
http://www.xin.sg/article.php?category=81&article=18530
The event is open to public, however winning a pair of VIP ticket allows you to sit somewhat comfortably in close vicinity to enjoy the show.
Why you should come:
- Meet MiLuBing and other finalists from Superband 2006, who will also share their tips with the new batch of Superband contestants
it's also the very first public performance for the 16 finalists of superband season 2, do support! :)
anyway, lobangs if you guys wanna win some VIP passes..
for 24th may The Big Idea event-
http://u.mediacorptv.sg/contests.aspx?kw=contests
for this we're unsure if the VIP tickets is given out randomly for the two different days... something like the SPOP on the bus contest some time before.. so, maybe just try your luck ya? :p
and also..
for 1st june Channel U concert-
http://u.mediacorptv.sg/contests.aspx?kw=contests&form=FRM080421-0000003
and the xin.sg one on top... though they didn't exactly mention what the passes are for. [if you're also a fan of u are the one]
good luck!
Labels: Events, how to win...?
13 May, 2008
weiqi | 13 May, 2008 01:00
mmm... dunno..just tried quite a while b4 i could get in..so quickly post. All of u pls take care ya? :)
Wat we courier? hahaha.. jellybeans.. :D to make our album sweet and chewy.. but i mean seriously.. this round, we got quite a variety of songs. i think i better not say too much la.. later gena scolded for letting out info tat shldn't be known! haha.. like real rite? as if the album is top secret or sumthin. *cough* but i'm serious! jellybeans!
Labels: Weiqi
12 May, 2008
Music is PLAY!
milubing | 12 May, 2008 22:07
hey MLBians, dun worry bout us k? we are doing kinda fine.. :)
Sometimes we kinda carry on working despite the time cos it's fun!
I read the article on 'lack of slp' Hmm..kinda scary. But well, we've been working kinda around the clock, but sometimes in shifts, sometimes together...
I would say that Sam and I are considered 'still okay', but ah nic.. sigh.. poor guy. He is the current zombie..cos sometimes he gets super little hours of rest, and then he'll have to rush down to camp in the morning and do vigorous stuff like choreography(dance).
As for me, I'm kinda used to it,cos I jus finished my submissions the week b4 last, then now continue the 'slp pattern' and i've trained to slp on moving chairs, so now my air bed serves me well heh heh..
Sam would be taxing on the travelling? cos sometimes he gotta 'courier' some data to the respective companies, and late nites is something tat's not good for him,so usually i tag team with him, take the nites for him, then he takes my days. for eg,today i woke @ 3pm, cos slept @ 8am in the morning. sumthing like tat.
So dun worry,cos we try to balance each other out. Right now, only nic's a little..zombish..poor guy.
btw, i am really amazed by u all..regarding the blog competition thingy? i jus told sam bout how we're at least in the top 3.. he was like (0_0) yup..and i was like (@_@)
cos we seldom update due to our busy lives and crazy schedules, and especially during this recording period. But hey.. mus be u all zuo shou duan.. go and spam votes rite? haha.. thanks so much ya? cos we still feel that we dun do a good job maintaining this blog as of yet. and we cheat..cos we got Xiu jie to help us! haha..u all cute la...

Anyways, do take care of yourselves, and we'll meet up next weekend! JIAYO to u all!
Labels: MLB just blogged, Weiqi
thanks meikian for informing...
"
i-POP concert

feat. MiLuBing, Kelly Poon, Daren Tan, Champion, Gary Cao

Date: 24th May 2008 (Sat)
Time: 7.30pm
Venue: Ngee Ann Civic Plaza

Get high at the i-POP concert, a two-hour gig featuring artistes belting out songs from the best in Mandopop!

Simply spend $250 on Crocodile regular priced items and receive a pair of VIP passes and photo opportunity with the performing artistes at i-POP Concert!

[Promotion only available at Crocodile Suntec City, Vivo City, Parkway Parade and Ang Mo Kio Hub.]

details from Crocodile website
"
Labels: Events
10 May, 2008
uncle sam FINALLY blogged...
********************************
Music Work
milubing | 10 May, 2008 01:28
Yea. As you all know, we're working on the coming album. Yea! Jia you! Not on the face..
Everyone jia yooou too!
FYI, uncle sam did not MIA. Just that he did not blog. Anytime he came online was to check mails. ONLY.. Aiyo.. He doesn't like late nights. He doesn't like eye bags, though he has. He will be on the SS Show. However, he wants to inform ya that he'll probably be there almost on the dot for show and leave 'chop chop'. Time time.. I believe you understand ya? =)
Thank u. Goodnight man.
-uncle sam
Labels: MLB just blogged, Sam
08 May, 2008
I'm slow but thanks Lavender for informing...
A chance to be a Superstar Blogger -
30/04/08 - Press Holdings Ltd (SPH), launched the first bilingual blog award in Singapore, aptly named the Singapore Blog Awards.
A total of 7 categories in the inaugural Singapore Blog Awards –
To further spice things up, there will be 2 additional CELEBRITY BLOG AWARDS –
Best Local Celebrity Blog & Best Overseas Celebrity Blog – to honour well-written blogs maintained by known figures.
There will be no prizes for these two categories and the winners will be determined entirely by public voting.
http://blog.omy.sg/sgblogawards/archives/19
To NOMINATE yr fav blogger or Celebrity Blog -
http://sgblogawards.omy.sg/
closing date 1/6/08
Labels: Miscellaneous
07 May, 2008
weiqi | 07 May, 2008 01:51
haha..ate dinner alone la, cos sam at b4 he came :) Now he left le, got to get some rest. i'll be working till tmr, then sam will continue in the afternoon, nic will join in the evening, and i'll be back after dinner.. thanks for all the encouragement peeps.. we'll do our very best! see ya all very soon!
weiqi | 07 May, 2008 03:41
*nods* hectic... yeah.. hectic.. or i wldn't still be awake at this hour.. sigh.. but for a good cause... :p
Labels: Weiqi
06 May, 2008
weiqi | 06 May, 2008 20:52
hey peeps..no worries, will pass the jiayos to the other 2... sam is here with me.. nic go show tonite..tmr nic will be back :)
regarding the gigs, i'll post any updates i get ya? :D
See ya all...n take care! gonna order my dinner now..
Labels: Weiqi
Oh no... we've been abducted...
milubing | 06 May, 2008 05:02
by aliens perhaps?
na...i know it seems like we all 3 MIA like xiao rite? well it's jus that we're been having super intensive recording.. u guys n gals wan a super duper nice album rite? ya.. that's why we mia lor.. forgive ya.. we wanna give our very very very bestest best for all mlbians.. so sweat and blood must drop...
anyways, here's some dates to look out for:
24th May - iweekly concert(full band appearance with performane..pending whether to give small preview of new album songs too!!!but asking for permission)
1st June - chnl U concert (pending if nic going alone or with Sam)
also wanted to let u know bout the i weekly mother's day thingy but i think some of u super fast ya? haha.. u all pro la..
pls take care peeps... see u all very soon..
p.s. can u feel 'it'? 'it' is coming...
weiqi | 06 May, 2008 05:13
nitey!
weiqi | 06 May, 2008 05:20
btw, congrats to Miko for making it into ADM haha... welcome to hell leh.. heh..kiddin, shldn't scare u. now u can see the super un-glam weiqi...who looks super tired and like a zombie in school haha..i heard last time from one of the mlbians that her cousin ever since studying in adm, developed a not so nice impression of me cos i look lok kok in school HAHAHAHA... bo bian la, so busy in school, no time to go style hair, dress super posh and walk with style.. hahaha...just rush rush rush.. ;) ya, and no time to cut hair.. i jus cut my hair this week after a whole 3 months!!! ok..i shld really go slp.. nitey
Labels: MLB just blogged, Weiqi
05 May, 2008
Wooh an interview with the guys at this week's I-weekly.
...i为你揭露他们年少时的叛逆实录,也公开了星妈们的金玉良言,让大家一起听妈妈们的话。

迷路兵

伟奇 - 小时候若叛逆不听话,比如一个人冲过马路,都会被打。记得那时候住排屋,每一层楼都放几只藤条,我时常一层楼一层楼区藏起来。

nic -
和妈妈感情好吗?
还不错,但曾经和她打过架。但是大概10岁,因为不听话,父母用藤条打我就反抗,挣扎。

你进感化院时,妈妈的反应是...
很伤心,一段时间一直不肯接受事实。虽然她很生气,但我知道她非常自责,只是每明显地表现出来。那时候每两个星期才能见亲人一次但妈妈一定会来,有时候还拿无薪假期。他便了很多,变得更温柔体贴。但是真地看到母爱的美。

送过什么特别的礼物给她?
记得小时候,我和妹妹每人栽种了一捧植物给妈妈,叶子长长那种,已经超过10年了,叶子也黄了,但妈妈依然收着。今年母亲节会亲手制作礼物,但不会写歌。尝试自己不擅长的东西才有心。

sam - 妈妈并不挑剔,唯一条件就是女友(或是将来老婆)必须会熬汤。她最常说的话是"你很瘦",因此每隔2,3天就会买牛奶给我喝。
source: I-weekly, issue 549, page 40
Labels: magazine articles
received an sms from pegg just now. MLB will be having a gig on the
24th may at Civic plaza
. time wasn't mentioned. details can be found in this wk's I-weekly in page 90...
Labels: Events