30 June, 2008
A song from the heart for the heroes of Sichuan, written and produced by a group of best friends from a little island called Singapore.
milubing | 30 June, 2008 20:35
nic
http://www.youtube.com/watch?v=_jPVKKlMIt0
click the above link if you've got a heart :)
***********************************************
it's here!
Labels: MLB just blogged, Nic, Songs, Videos
okay!
sam's going on auction!
anyone wants to buy the yandao leave a msg here...
payment transfers by GIRO pls..
ha!
coutesy of nic
29 June, 2008 23:04
Labels: Nic
29 June, 2008
sam :
milubing | 29 June, 2008 02:00
Eyes BIG and
small
. Don't laugh..
Self-shoot, self-take.
What's for supper?
In the end, i didn't have supper. Instead, i went to visit my friend at the hospital straight after the show. I'm so hungry now. Hungry man is an angry man. So i better go to bed..
Ah.. Lorita! MLB thank you for supporting us over here! Be good in your homeland (i like HK too) and take care!!
Labels: MLB just blogged, Sam
27 June, 2008
"weiqi said...
thanks for e jiayos!
flora, my laptop is not an apple(sobs..i wish it were though..)it's jus white..n u got e 2 ?s rite. Peishan,ur maths gd,n ur sense of humour is gd like mine haha..
Uncle Phil is right,in fact yesterday nic tripped over the wires n his mac came falling down! sigh..too bad.heart pain.quizzy also very zun.
someone muz send e album to lorita!
Today nic n i went to buy stands n a case plus some cables... walk from 1230 till 7pm!!!crazy..super tired now. Sam was at hospital cos of his friend so he couldn't join.
Nic n i walked from dhoby ghaut -> Paradiz -> Bras Pasar Complex -> Peninsula Plaza -> Simlim Tower -> Simlim square -> finally back to paradiz... carrying lotsa heavy stuff in our bags.. training..tsk tsk.."
27 June, 2008 00:06
"nic here...
yeah... more messy equals to more money spent..
sg artiste dun earn alot.. so we're kinda broke actualli..
currently wei qi running packard dell 17" cool thing - his RPM 5K plus...which i will run.. he using my macbook white cool thing - 2.4GhZ 4G RAM.. both running maudio firewire interfaces.. kinda minimal, but cant afford 2 mac pros and saphire soundcards.. which is kinda our dream.. faster RPMs n specs... almost 1.5 times to 2 the specs of what we using.. hence less latency (vital to laptop music)...
hardisk can crash on stage due to high levels of volume.. (SPL)... vibrations.. autoshutdown mechanism to protect the lappies..
hence we gotta elevate the equipment off the ground.. invest on stands n foaming to dampen the vibrations... coolers to cool the lappies on stage.. today walk non stop 5 hrs to get the above 4/5 settled.. just to try our best reduce the chances of a crash on stage.
we're doing our best, n hope nxt time ppl laugh at our band name they'ld laugh at themselves laughing at us after they hear us out haha :)
money not enough (movie part 2 comin out ya)
aiyoyo..
but such pain can be such joy when ya see the fruits. i mean hear...
seems like gotta save another half yr to one to get the mac pros.
the most important right now... good album..
ya all take care aye?.. tata"
26 June, 2008
MESSY!
milubing | 26 June, 2008 03:50
if a picture paints a thousand words,
then what do 4 messy pictures paint?
treasure hunt? no la, we're testing out our latest rig.. always shiok and painful @ the same time when stepping into new territory..
got some news to update u all too..
the bad news? album delayed till mid august
the good news? album delayed for better quality production ;)
Take care mlbians..
Labels: MLB just blogged, Weiqi
23 June, 2008
sam :
milubing | 23 June, 2008 00:53
I was at the hospital almost the whole day, visited a friend who's unwell. Before i left the ward at night, an old lady in her 80s was brought in to rest on the bed directly opposite my friend. This auntie was accompanied by her younger brother who was almost as old as her. As Auntie had difficulties with movements and speech, her brother spoke to the nurse on her behalf. Unfortunately, the foreign nurse couldn't speak dialet and Uncle hardly understood english. I then went up and volunteered to help with simple translation. Uncle couldn't answer many of the nurse's questions. For example, any drug allergy? When asked for a Next-Of-Kin contact, Uncle took out his handphone and searched for his own handphone number.. The nurse asked for a second NOK contact, Uncle replied at that time he's the only one and he'll definitely pick up his phone. I learnt that this pair of siblings lived together, their next kin was a niece who was not contactable at that time. Uncle also told me to ask the nurse if they could have financial assistance with the hospital fee.. When the discussion was over, Uncle walked over to Auntie who was lying still on the bed, stroked her forehead and said to her that he's leaving and will be back the next day to visit her. She replied a very soft "Orh" and watched him leave. From that time till i left, i looked at Auntie. She stared blankly at nothing, helpless and lonely. I tried speaking to her a little in cantonese, asking her whether she was comfortable, telling her to sleep early and have a good rest, trying to cheer her up. I didn't know what she was trying to reply. Then before i walked out of the ward, i went up to Auntie again, gave her a wide braces smile and say goodbye. I felt sad.. Not like really upset till i cry, but just sad to witness this happening. Maybe its not as bad as i think, but this is reality.
I don't have a moral of the story, because this is not a story.
I hope all of us will stay healthy and away from the hospital, take care people..
************************************
nic here..
couldnt help but say...
yes...this is reality ppl...
most of our parents have 2/3 of their lives gone...
for us maybe 1/3...
cherish whatever there is left...
it may be depressing.. but we can always look at it either way half glass empty or half glass full.
depressing man.
maybe i'll die of lung cancer you know why...
:(
Labels: MLB just blogged, Nic, Sam
22 June, 2008
sam : 1 x Pic
milubing | 21 June, 2008 22:04
Y0, i'm back.. Goodnight.
Labels: MLB just blogged, Sam
21 June, 2008
weiqi | 20 June, 2008 17:01
hey Lorita, yup, read your letter.. means you'll be permanently there from now on? or can come back once in a while for holiday? and the 2 movie peeps.. one yishun one sun plaza.. sigh.. so far leh.. hahaha..maybe can sneak me into the theatres.. btw, tell u all an absurd story. I once bought movie tickets, and walked off without my tics after paying. when i cam back 10mins later, the boy said that he didn't rmbr me buying from him, and that he didn't have any extra tic lying around.. in the end i explained my case to the manager and they ushered me to a reserved seat area within the cinema which i think is for last min problems like my case.. it was a weird experience but turned out ok. Just last week too, the printing machine for the ticket ran out of ink. I had this movie tic with hand written "kungfu panda blabla" and signed by the person behind! haha.. amusing la.. ;)
Labels: Weiqi
17 June, 2008
here's some of the pics taken by mediacorp during the Always Fun Party.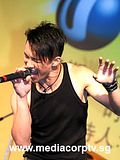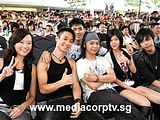 thanks someone~
Labels: Pics
weiqi | 16 June, 2008 23:35
tsk tsk.. the answer to my question is @ the bottom right of the picture in the dark.. squint and u will see.. tricked u all to looking @ the grill haha..and btw the goggles belongs to the kid,i borrowed from him cos i was attacked by another water gunner outside of the pic..going back to school tmr! for 'special' reason,sigh.. anyways, sam still had training, and he did well for his IPPT :D Take care peeps! btw, my keyboard is just black with some metal finishing, it's not a black n white photo there..
weiqi | 16 June, 2008 23:38
p.s. finally got some time to watch movies.. enjoyed iron man(8/10) and speed racer(7/10), but disappointed in the happening(?/10)..not happening at all leh..narnia..hmm..i've yet to watch it but..dun mess with the zohan looks good heh heh..
weiqi | 17 June, 2008 00:11
paiseh.. i typed wrongly.. it's bottom left.. :p
weiqi | 17 June, 2008 00:13
oh ya! forgot to add.. kung fu panda! nice animation! if u guys are interested, go look for 'surf's up' it's a animated film tat's been given too little publicity..
Labels: Weiqi
16 June, 2008
Ok here's the song that nic recommended - BUT WE'LL STILL SUPPORT ORIGINAL OK? =D
Regina Spektor - The Call (from "Chronicles of Narnia" soundtrack)
It started out as a feeling
Which then grew into a hope
Which then turned into a quiet thought
Which then turned into a quiet word
And then that word grew louder and louder
'Til it was a battle cry
I'll come back
When you call me
No need to say goodbye
Just because everything's changing
Doesn't mean it's never
Been this way before
All you can do is try to know
Who your friends are
As you head off to the war
Pick a star on the dark horizon
And follow the light
You'll come back
When it's over
No need to say good bye
You'll come back
When it's over
No need to say good bye
Now we're back to the beginning
It's just a feeling and now one knows yet
But just because they can't feel it too
Doesn't mean that you have to forget
Let your memories grow stronger and stronger
'Til they're before your eyes
You'll come back
When they call you
No need to say good bye
You'll come back
When they call you
No need to say good bye
(source: http://www.youtube.com/watch?v=AJyNMSJxHeA)
Labels: Miscellaneous
Anonymous | 16 June, 2008 04:24
nic here..
got song to intro...
regina spektor - the call
if ya watched narnia...
this song touched my heart lots :)
n its not reali temptation.. but knowing something had to be done to move forward n be better then my yesterday... no pain (pocket wise) no gain haha..
much more pain to suffer lor..
audio interfaces, sound cards, ear mons, and many stuffs on my guit rig. hai!!!!
Labels: Nic
15 June, 2008
非常SUPERBROKE!
milubing | 14 June, 2008 21:49
the musician's curse! work for $ to fund your passion!!!
Went 'shopping' with mr Nic this week and bought ma new baby..
Feeling broke now..but no choice..had to do this to grow! Investments must be made for a better tmr... ;) haha..i dramatize a bit la heh heh... the funniest part is while i bought the keyboard, Nic was checking out a guit pedal..and the store owner offered him a deal if he bought it together with my keyboard.. haha.. i'm not the only one feeling broke now.. heh heh.. but my spending is nothin compared to Nic heh heh..too bad, he's the guitarist!! haha.. naturally have to spend more for different sounds = different guitars.. for my keyboard i just need to select from my synth! heh heh.. but this new keyboard is a controller..not a synthesizer..for the new setup for MLB.. :)
Now for a little bo liao update on my break @ the camp..nothin serious here...


Had fun with the kids @ the pool.. this guy tried to sneak up behind me..





















and later i was his cyborg and he was the pilot..neck ache after that..

























Ate loads...


















My favourite food!!! on the bbq grill!!! can anyone guess?? heh heh..the answer is somewhere in the picture...



















Take care mlbians!

p.s. btw sam is probably feeling very tired from all the training in camp but he is out now :)
and good news, nic is not going to posted out le.. ;)
Labels: MLB just blogged, Weiqi
14 June, 2008
weiqi | 13 June, 2008 23:53
Fei Chang Super Broke! That's wat i am now haha... really dun mind having 50k now.. sigh.. explain to u all in a post soon. Sorry have not been updating here...hmm..will post!Tmr sam won't be at SS i think,am i right?he mentioned rite? dunno.. abit luan.. i'll be back..
Labels: Weiqi
11 June, 2008
heyya.. another round of voting is here ya.. *smiles*
so yeah.. vote for MLB.. but do rmb that you can only vote once per day ya. (=
http://sgblogawards.omy.sg/finalists/?blogCat=local
Labels: Votings
09 June, 2008
weiqi | 09 June, 2008 00:05
hey hey..how to update leh.. sam jus posted here.. i wait a few more days b4 i do a new entry ya? tmr gonna continue working on album stuff with ah nic.. btw jus some updates: kinda sad, not doing the album cover le(not sure if i've mentioned this b4) cos ppl @ e company want me to concentrate on the music. but actually my confirm can one leh,as long as got heart can do one..but guess they know best.k la.. tag again tmr.. take care u all..
Labels: Weiqi
07 June, 2008
sam is back in action~ (=
sam : yawn, yawns, yawn and yawns
milubing 07 June, 2008 10:49
GE WEI GUAN ZHONG ! I am ALIVE. I am yawning! In the army, we're taught to get at least 7hrs of sleep daily, i had less than 4 this morning.. Why? I don't know.. Serves me right. Neh neh ni bu bu =) *yawn again*
Did you know that i didn't go with WeiQi to camp? Instead, i'll be going to camp on the coming Monday. In-Camp-Training = Reservist. OH.. 0h.. oh.. Sounds interesting? It means black and short hair.. I'll be seeing many of my old friends from army, and we'll be running and taking IPPT and perspiring smelly-ly together.. We're supposed to stay in for a week, so i may not be on SS show next weekend ya?
Btw, why i didn't blog for some time? Eh.. Hmm.. Becos..
- i'm acting mysterious
- i'm afraid once i start i can't stop
- i don't wanna flood this blog with my crap
- i wanna be missed =)
Everybody, take care man!
Labels: MLB just blogged, Sam
06 June, 2008
weiqi is back~~ (=
"weiqi 06 June, 2008 19:21
hey peeps.. i'm back.. btw i went alone la.. i just watched nic's perf online hahaha.. alter ego ya? heh heh.. glad he held the fort! ;) will come tag again..un pack my stuff first.. "
Labels: Weiqi
here are some of the pics that qianhui took during IMM event. enjoy and thanks~ (=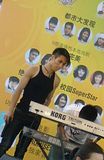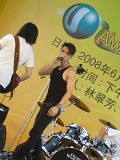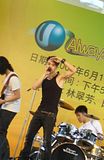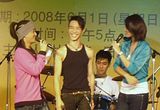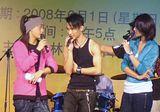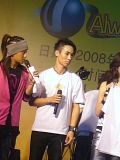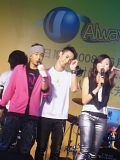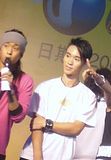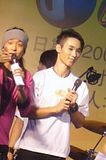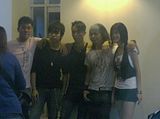 05 June, 2008
thanks capri jie for providing the pictures =D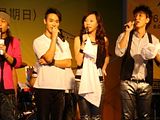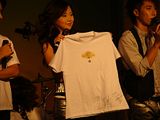 Labels: Pics
04 June, 2008
nic here..
die la.. not enough slp.. recording guits all night..camp all day...
but! holding on.. thanks for the links :) more for a keep sake n momento (the vids)
cant wait for the launch of the album.. making music, making statements.. i would say it be something darn diff..
duno when's the next time gonna perform again..
to reply an earlier tag.. its not imy showmanship improve la.. its becoz no guit... genre of music as a catalyst.. then my alter ego can come out *winkz*
slp well.. hope everyone's doing fine.. hope your troubles today wil become yesterday's history..
http://en.wikipedia.org/wiki/Alter_ego
Labels: Nic
03 June, 2008
Ok I'm darn late...
Anonymous | 02 June, 2008 04:52
thanks for the boards :)
yes i saw them.. thank you guys for comin down n auctioning the stuf..
today that one to me is stress relieve la..shout till shiok onli..
superband 1 is not dead yet * hehe..
miss the 2 fellas la..
hope ya guys enjoyed the show though.. live music still rocks!
Anonymous Anonymous | 02 June, 2008 05:38
anyone got the vid pls do post up.. will be darn grateful.. :)
nic
****************************
here is the video~thanks to rah~
or you want to view the close-up? qian hui uploaded~
then she even uploaded their rehearsal if you are interested to see...thank you qian hui!
*****************************
Ok one more, I was told nic's picture was posted in Dasmond's blog. LOL! www.dasmondkoh.com
01 June, 2008
goodbye dear friends...
milubing | 31 May, 2008 23:28
will be leaving the country tmr for church camp.. but i'll b back on the 6th of June...
Regarding what time nic's show is going to start..well..i'm not too sure what time.if some how i managed to find out b4 i leave then i'll post. I actually called nic up but he's on the way to rehearsal..so couldn't really talk..rushing.
Since Quizzy_me was asking regarding the keyboard research, here's one of the keyboards(CME VX7) i was considering...





But now i've given up on this one and moving on to another cos i read the forums and it seems like if u update the firmware(version) it solves some bugs but creates more! and i can't rely on a 'beta' type of keyboard that has to be updated with XP!no mac no vista! wow.. scary ya? so in our business, reliability is the key cos we're playing on stage and if half way the keyboard turns into a brick.. yikes..but this new company CME, is moving in the right direction..but it just hasn't reached it's goal of producing a world class pro keyboard. It has motorised faders,internal audio interface,a hell load of knobs pads wheels ribbon,U-ctrl technology, can be expanded into a synth! and more.. of course the hot red will definitely rock the stage.. but not anytime soon.. i'll defintely check it out again in the near future. but for now.. i'm aiming for another keyboard..just hope the good ppl at CME will continue to work hard.
It's times like this that i think of my yamaha MO8..and know that it's really reliable workmanship..but yamaha has got to be careful. There are many new competitors..so it's good for the consumer(me!).
btw if ur thinking, why new keyboard? dun u already have that coffin? haha..well, i'm looking for a midi controller keyboard instead - a sort of shell controller that doesn't have any sounds inside. it needs to be connected to another device (eg. laptop) to 'speak'. and it's time i try out half keys heh heh..

sayonara then... take care mlbians..
Labels: MLB just blogged, Weiqi